January 3-10, 2007
home | metro santa cruz index | santa cruz county restaurants | review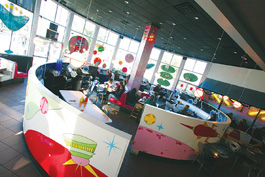 Photograph by Carlie Statsky
Space oddity: Saturn frequenters quickly adjust to the change in gravity.
Brunch in Space
Saturn Café's afternoon brunch gives your stomach a smooth landing after a night of high living
By Selene Latigo
Tis the season for shameless excess. We seem to be pretty good at indulging all year round, but when the holidays roll around the celebratory spirit conjures up even more exuberant events and imbibing. We hosted an annual holiday party Saturday with endless appetizers, sweets and a bottomless bucket of sangria that took its toll well into Sunday afternoon. Our first meal of the day needed to be substantial, a blend of greasy, hangover cure and nourishing regenerative freshness. It was 2pm, we were still in our sweats and Saturn Café was the place.
With weekend brunch served until 4pm and an extra 20 percent discount for showing up in our pajamas, this is an obvious draw for anyone in an after-party state of mind. The crowded space and brief wait for a table indicated that we weren't alone in the discovery of Saturn's Sunday appeal. Our dismembered baby doll-themed table had a direct view of the Avenue bar and the action on Pacific Avenue, all things that made my head spin a bit more. I focused my attention on the menu, which offered brunch classics like pancakes, avocado Benedict and stuffed French toast as well as more Saturn Café-tuned items with alternative meat substitutes and a full diner-esque selection of burgers, fried appetizers and shakes plus large salads and healthy soups.
My tired brain was a bit apprehensive about the possibility of an all-too-common lag associated with service at Saturn. However, we were pleasantly surprised and put at ease by our extremely proficient, well informed and quick-witted server as well as the soothing jazz that played throughout the round room, another unexpected element here.
The Muffinator ($4.95), known in less sophisticated eateries as an "egg McMuffin," called to me. This dish featured a large, very soft English muffin with a folded up organic, cage-free-egg omelette and melted cheddar. Instead of soy sausage, I substituted the house-made Saturn burger consisting of a blend of veggies, grains, nuts and cheese. The flavor reminded me of Thanksgiving stuffing pressed into a patty. I found my mouth wanting more crunch from the English muffin, which was a version less like the typical toasted and chewy variety and more like an extra soft bun. The accompanying, herb-flecked home fries held satisfying, crispy browned edges and contained the right ratio of grease to salt that my system craved. I also ordered a Nub chai ($2.75) that arrived in a large glass, steaming hot, but was too sweet even with my added pours of half and half.
Dave, contradictory on so many levels, ordered the Spartacus salad ($8.50) to get some fresh greens and additional vitamins as well as a side of French fries ($2.75) and a pint of Pabst Blue Ribbon beer ($2); "hair of the dog," he winked and gulped as I shuddered. His recent attempts at avoiding daily doses of french fries or potato chips vanished along with last night's sobriety. The salad was dressed in a creamy Greek dressing and was scattered with tiny bits of red onion and cucumber. Savory, breaded crisp chunks of "chix" provided protein and little triangles of grilled pita bread made this hearty salad a complete meal. Visually, the salad looked more like the "chicken" Caesar on the menu, the description of feta, cucumber, tomato and red onion sounding like ingredients that would have a more central role than the sparse amount that actually arrived. However, after tasting the rich, well-made feta-based dressing, Dave was happy with his selection.
The thin french fries were crispy and golden and exactly what Dave imagined when prompted to order them instead of the alternate steak variety offered on the menu. They were also a reminder for us to visit Saturn again soon for their consistent high-quality fried foods and cheap prices.
We stepped back out onto Earth, still a bit shaky but much improved from an hour before. Our meal at Saturn Café gave us essential sustenance and energy as well as reiterating the reason why it has been a landmark in Santa Cruz for so long. Saturn Café has achieved a balance of healthy decadence and familiar strangeness that we always find completely comforting.
---
Saturn Cafe
Address: 145 Laurel St., Santa Cruz
Phone: 831.475.1511
Hours: Daily 10am-3am; brunch daily 10am-4pm.
Price Range: $3-$10.
Send a letter to the editor about this story.