January 3-10, 2007
home | metro santa cruz index | music & nightlife | preview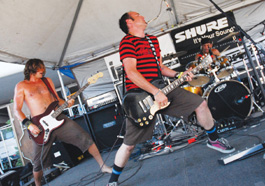 photolindsey.com
Splitting Seconds: (Left to right) Liam Stary, Mike McGuire and Rob Tedrick kick out the jams.
Within Spitting Distance
Splitting Seconds shapes the hardcore sound to come
By Paul Davis
Although Splitting Seconds is now a labor of love for ringleader Michael McGuire, it hasn't always been that way. In fact, the rest of the band spent half a year trying to convince McGuire to sign on before he finally took the plunge in 2002.
"I'd been in a band for about five years and didn't plan on getting in another project," says McGuire of his previous band's protracted and difficult breakup. "I wanted to join a band that was already touring, already moving, and didn't want to start over from scratch. The guys recruited me, but it took about six months for me to agree."
Today, the once reluctant McGuire and his Splitting Seconds band mates are among the most vital players in the new wave of Santa Cruz punk that's taken root over the past five years. Indeed, the melodic and anthemic four-piece punk band is virtually married to the Santa Cruz punk rock mob that orbits around local punk label Lorelei Records. Founded by the one-two punch of Santa Cruz punk legends Joe Clements of Fury 66 and Russ Rankin of Good Riddance, the label has resurrected Santa Cruz as a skate-punk epicenter in the past half-decade with bands such as Los Dryheavers, 30 Years War and Here Kitty Kitty. And with Splitting Seconds' new Lorelei release Into the Red and major tour plans for the upcoming year (including a month-long West Coast tour this month and a nationwide tour in the summer), Rankin and Clements have tapped the band to be Santa Cruz's premiere ill-will-ambassadors for '07.
Though the band has put out a number of self-released CDs and toured extensively in the past-- they figure they've spent at least three months a year on the road, including appearances on the Warped Tour and at South by Southwest--McGuire feels that their recent association with Lorelei (and with Rankin in particular) has shaped the sound of the band. When the group signed to the label early last year, they scrapped an entire self-recorded CD in favor of a completely new recording made with Rankin at the recording console.
"We spent a lot recording our own CD at Hyde Street studios in San Francisco and were going to put it out, and then Joe and Russ from Lorelei got a hold of it and Russ wanted to rerecord it," says McGuire. "We recorded the record and some new songs, and having Russ' input was amazing. He worked with us on our strong points and cleaned up our music a lot--he cleared out all the schwag in our music! Being in a little band you always hear that the producer is going to change your music and you'll lose the integrity of your sound, but with Russ he came in and it went perfect."
Meanwhile, the band's long stints on the road helped develop the songwriting talents of McGuire and fellow guitarist/vocalist Richard Swan. "When we first started getting on the road about three years ago, most of our music was about the underground music community and unity and friendship, the positive side of things," McGuire says, echoing the communal hardcore scene boosterism of their heroes in Hot Water Music and Thrice. But over time, McGuire and Swan's lyrics have begun to dig much deeper, examining what it means to live a DIY life in a corporate world as the group looks at the sacrifices they've made in their personal lives to perform music.
"A lot of us have given up a lot of different things to be in the band--[the lifestyle is] a little different than how a lot of people live. Our music says it's OK to be an artist and not go for the white picket fence, the American dream," McGuire states. "It's hard in the U.S. to be an artist, it's not appreciated, and you have to go out on a limb and portray to young people that it's OK to do something different with your life and not work 80 hours a week--we try to get that through to kids."
Splitting Seconds' CD release show for 'Into the Red' happens Friday, Jan. 12, at 7pm at 418 Project, 418 Front St., Santa Cruz. Tickets are $5, and are available day of show; 831.466.9770.
Send a letter to the editor about this story.