March 1-8, 2006
home | metro santa cruz index | columns | nūz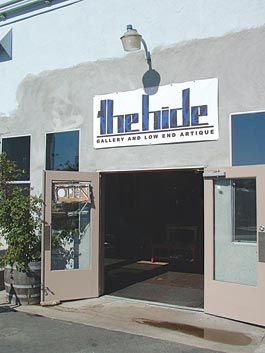 Jekyll Not Included: A former taxi depot gets a 'hip urban' makeover.
Nūz: Santa Cruz County News Briefs
Stop the Insanity
Anyone who reached the message machine of Resource Center for Nonviolence's executive director Scott Kennedy last week was in for a, well, violent-sounding surprise: "If you're calling about the DeCinzo cartoon, I can't answer the phone because I'm busy burning down the Danish embassy."
Kennedy says the salutation, which he has since deleted, was triggered by DeCinzo's recent depiction of the Resource Center as supporting Hamas and Iranian nukes while opposing Israel and the recovery of its prime minister, Ariel Sharon. Claiming that DeCinzo's allegations have "absolutely no basis in fact," Kennedy hastened to clarify that his message was, of course, a joke.
But David Dionisi, who gave the keynote speech at the center's 30th anniversary dinner last week, wasn't joking when he suggested that, "when we see bin Laden putting forward truths, we should say to Bush, 'Talk to the man.'"
A former Republican and military intelligence officer, Dionisi made the comment while talking about American Hiroshima, his nonfiction account of the next 9/11 attack in the United States and how it can be avoided. Convinced the Bush administration magnified the effects of 9/11 by supporting a foreign policy that helped Al Qaeda recruit members and unified even the moderate Arab world against us, Dionisi believes that Bush plans to attack Iran—and that the next Al Qaeda attack is preventable.
"Bin Laden is ultimately a religious man, he wants to grow his movement," claims Dionisi, noting that bin Laden could have achieved far greater destruction had hijackers flown into nuclear plants in New York and Massachusetts, but such attacks would have alienated the Arab world. Four years and two wars later, Dionisi claims bin Laden is preparing to execute his ultimate plan: destruct the U.S. economy, and Dionisi's certain the next 9/11 will be nuclear.
He also believes the invasion of Iraq wasn't just to secure the oil supply, but to gain control of the Middle East's largest water supply—and help encircle China with military bases for a war in 2015.
Worried that Bush wants to weaponize space to achieve world domination, Dionisi urges people to mark the third anniversary of the March 19 Iraq invasion with letters, fasts, protests "and making sure President Bush has no place to hide, that he gets prosecuted for war crimes."
"We've spent $750 billion on war since 9/11, $5 trillion on nukes since 1945," says Dionisi. "The $1 billion we spend in Iraq weekly could care for 11 million African orphans—annually.
Abuse Your Illusions
What could Santa Cruz do with the $69.8 million the war has cost the county so far? That at least is the figure the National Priorities Project cites in "The Local Costs of the Iraq War," a report that breaks down costs by town, city, county and state, based on a $315.8 billion total.
With the cost per household calculated at $2,992 and the cost per person at $1,122, the NPP report claims costs to California are $40.6 billion, making our state numero uno in costs, with New York a distant second ($26.5 billion) and Texas third (25.6 billion.) Ouch.
The Hide Out
Remember Yellow Cab Company ocean end of Front Street? Then you know the location of the newly opened Hide Gallery. Nestled at the base of Beach Hill on the Front Street side of Lotts' Auto Stereo, the gallery is the anchor tenant in a big blue warehouse that used to belong to an auto dealer, but is now poised to become the missing link connecting wharf with downtown.
The Hide's executive director Joseph Hencke hopes to convert the warehouse into "a hip urban and youth-oriented complex called the Mill, because it used to be a timber-storing lumber shed."
A co-venture with the Santa Cruz Institute of Contemporary Arts (whose co-founders—the ubiquitous Kirby Scudder and the monosyllabic Ch!p can be found lurking upstairs in what was Yellow Cab's dispatch HQ but is now their office, or next door in their Salon de Refuse gallery), the Hide hopes to provide "an epicenter for youthful, creative, artistic expression, including a community-based art workshop, as well as local arts, music and apparel."
Visit the Hide's grand opening at 6:30pm, Friday, March 3. Rub elbows with art workshop manager Adrian Rasmussen, women's clothing buyer Jennifer Pond, men's clothing buyer Tim Armstrong and father-son team Noah and Marc Gould, whose Art Enemys show graces the walls, and be, as Hencke promises, "part of a story about to unfold." 131B Front St., 831.345.6436; [email protected]
All Dolled Up
Thought doll fashion was getting too formal when Barbie came out with her own line of evening wear? Wait till you see Watsonville Taiko's third annual Japanese Doll Festival. Dolls with costumes from the Heian Period (c. 794-1192) are on display Sunday, March 5, at the Watsonville Dojo, 150 Blackburn St.
Watsonville Taiko's Ikuyo Conant says the display is an annual tradition in Japan, coinciding with the blooming of peach blossoms in early spring.
"It came from a Shinto belief in nature and the spirits of nature," says Conant. Originally people made small dolls out of paper or straw as symbolic holders of personal sin or impurities.
The celebration has become part of Girl's Day, when families with young girls pray for their daughters' health and happiness, and finely crafted dolls, often handed down from generation to generation, are placed in the families' living rooms. Parties are held where special food and cakes are prepared for the dolls but eaten by the young daughters and their friends.
Several different sets of these dolls will be on display at the Watsonville Taiko Dojo for the festival, which includes Japanese cuisine, music and dancing, and a Taiko performance. And though the event celebrates girls, boys are more than welcome to attend.
"Also, if anyone is interested in wearing kimonos, that would be great," says Conant.
Send a letter to the editor about this story.