March 1-8, 2006
home | metro santa cruz index | news | santa cruz | news article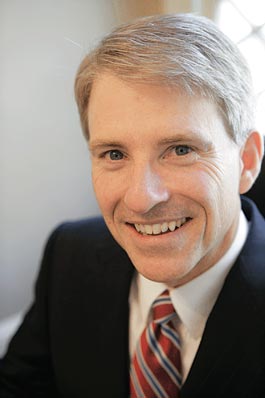 Born-Again Critic: Westly helped Schwarzenegger sell his initially unpopular bond measure; now he wants the governor's job.
Go Westly, Young Man
Former eBay executive? Born-again Schwarzenegger critic? Our next governor? Will the real Steve Westly please stand up?
By Leyna Krow
California state Controller Steve Westly is known to most Californians as the nice man who signs their tax refund checks. What's less well known is that he's running for governor. As he kicked off his campaign in February, Westly, one of two Democratic gubernatorial challengers, outlined the key to his platform: he is not Arnold Schwarzenegger.
"I think I've provided clear, consistent leadership for the state on progressive issues like the environment. I've been strongly pro-choice. I've been consistent in supporting gay marriage. Schwarzenegger has not," Westly told Metro Santa Cruz after a Feb. 21 campaign appearance in Salinas.
But back in 2004, Westly was Schwarzenegger's right-hand man as he worked to get Prop. 57 passed. Voters may remember Prop. 57 as the Recovery Bond Initiative, which allowed the state to acquire a one-time bond for $15 billion to help rescue the state's sinking economy. Astute voters may also recall a series of TV commercials in which Westly and Schwarzenegger discussed the benefits of the proposition, walking side-by-side and gesturing toward favorable-looking graphs and charts.
Now, as his campaign heats up, Westly is seeking to distance himself from his muscley Austrian pal.
"Gov. Schwarzenegger said he'd be a bipartisan governor and then spent the next year attacking nurses, teachers and firefighters. And now he's lurching back to the left. No one knows where he stands from week to week," said Westly. "With me, you're going to have someone who is consistently progressive on social issues and is a tough fiscal watchdog for the state."
But at the same time, Westly continues to defend his partnership with Schwarzenegger on the Recovery Bond Initiative.
"People ask, why would you support that? I supported it because I'm a Democrat. It's the same reason the Democratic Party supported Prop. 57. The same reason the AFL-CIO supported Prop. 57," Westly said.
In fact, according to Westly, one of the only elected Democrats to oppose the recovery bond initiative was Phil Angelides, the man who will be his opponent in the upcoming Democratic primaries.
Angelides, the state's current treasurer and former developer of Sacramento suburbs, has gained popularity among Democrats in Santa Cruz. According to Santa Cruz County Supervisor Mardi Wormhoudt, who has given her endorsement to Angelides, Angelides' politics are in keeping with left-leaning Santa Cruz. "Westly was a supporter of Schwarzenegger's. Now he's sort of a born-again Schwarzenegger critic," Wormhoudt said. "This is a very progressive community and Phil Angelides is definitely the progressive candidate in this race."
Westly, however, maintains his confidence that he will be California's choice as the Democratic candidate to take on Schwarzenegger next fall.
"I think the campaign in going very well so far," said Westly. "As you may know, the most recent polls from the Wall Street Journal just showed that if the election was held tomorrow, I'd beat Gov. Schwarzenegger by six points."
Westly's plan for success is a campaign focused on issues that no bleeding-heart Californian could resist: education and the environment.
Both Westly and Angelides are advocates for alternative fuel sources to lessen the environmental and political impact of a dependence on oil. Westly has also expressed a concern about protecting California's coast from offshore drilling.
"Right now, in Washington, they're looking at reopening a 22-year moratorium on drilling off our coast," Westly said. "That's something, as chair of the Lands Commission, that I'm standing up and saying no to."
As for education, both Democratic candidates are promising voters less expensive access to colleges and universities. While Angelides is offering a return to pre- Schwarzenegger tuition costs for CSU and UC students, Westly has chosen to focus his efforts on California's community college system. "Gov. Schwarzenegger has raised community college tuition over 100 percent in the last two years and had 280,000 students drop out of community college as a result," said Westly, who plans to make community college free by offering refundable loans for students who complete their degrees.
"This isn't for every community college student," Westly explained, "but for those who make a commitment to complete the two-year degree, to transfer to a four-year school or to get a vocational degree, we should provide free community college for them."
A former Stanford faculty member, Westly boasts that he is the only person with a background in teaching to run for governor in the last 25 years. Of course, Westly did not go straight from Stanford academic to state controller. He made a brief stop at eBay, when it was just a fledgling dotcom, as vice president of marketing and business development and walked away with millions when the company took off.
Despite his newfound wealth, Westly maintains that he has not lost touch with his slightly more humble roots.
"Until very few years ago I was living a very middle class life and I think a lot of those lessons of hard work and humility are still part of my being."
Send a letter to the editor about this story.