April 4-11, 2007
home | metro santa cruz index | santa cruz county restaurants | review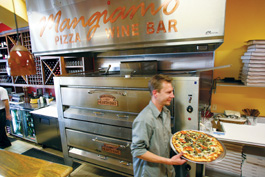 Photograph by Carlie Statsky
Mangiamo: Fulfilling a vital cultural need, one pizza at a time
Spirit of Place
Mangiamo provides a comfortable and jovial home away from home for Italian food lovers
By Selene Latigo
Note: An incomplete version of our dining review appeared in last week's issue. Following is the complete version of the text as it was intended to appear.
The "Third Place" concept is something that spans all cultures in an invaluable way. An environment where inhabitants can feel at home away from home, in the center of high-density urban neighborhoods or on a country dirt road, is a vital aspect for all communities worldwide, and one with ancient precedents. The mission statement of our newest West Side restaurant, Mangiamo, is a heartfelt greeting, imploring us all to share in this communal vision they are working to create.
Plus, they serve pizza. So we stopped in last week to see how our new neighbors were doing.
Judging from the crowded and jovial tables, the Third Space invitation is being accepted. At the door, a tuxedo-clad man sang classic and very loud Rat Pack numbers assisted by a karaoke machine. We nabbed the only vacant table and took in the amazing renovation that the formerly dim Big J's pizza parlor underwent.
The space is sleek, contemporary and welcoming, with bold touches like the wall of ornate mirrors and the warm shades of burgundy and creamy yellow. While the décor feels classy and the prices a bit above pizza-joint status, the plastic plates and paper takeout menu seem more in line with a casual approach. In addition, for a place that touts "wine bar" in its title, the wine list featured a majority of recognizably mass-produced names, all without a vintage noted. The mention on the menu of Mangiamo's dedication to local ingredients and a community-minded business approach made me wonder why there were zero local wines offered, especially in this outstanding appellation. We were happy to drink icy cold Anchor Steam on tap ($4.25, pint; $15, pitcher) as pizza and beer is an age-old tradition.
We chose a small Mangiamo salad ($3.95) to start, definitely ample enough for us to share, with a mound of baby mixed greens, red onion, black olives, pepperoncini and a few pale cherry tomatoes. The "house Italian" dressing did not taste homemade as expected but created a classic tangy pizza parlor salad experience.
Tucked way down on the bottom of the menu are four featured panini, all with simple, not overdone combinations on ciabatta bread. After glimpsing the shiny industrial panini press behind the counter, Dave decided to try one of the sandwiches in addition to our pizza. The trio of salty cured prosciutto, peppery arugula and creamy mozzarella ($6.95) all squished together tightly between the golden crusty bread was balanced on every level.
Seldom is it the case that a restaurant is overstaffed, but on this occasion, although everyone was friendly and attentive, there was a lack of designation as to which of the group was our actual server. This resulted in a long wait for our pizza, but the end result was worth it. We chose the New York-style crust as opposed to whole wheat or Sicilian pan style. "You better swing a big stick" are words straight from Dave's East Coast roots whenever he sees the N.Y. pizza claim, and this variation was more on the California end of the scale. However, the crisp, brick-oven-baked crust held up to the generously topped Greek half of our large pie ($23.75), piled with whole Kalamata olives, chewy sun-dried tomato strips, onions and artichoke hearts. The chunks of feta cheese imparted a nice musty sheep flavor, indicative of a higher-quality brand, not the chalky, pure salt flavor of some.
The other half of our pizza was the Quattro Formaggi with mozzarella, provolone, Parmesan and blue cheeses. The cheeses were bubbling and blistered from the heat with just the right amount of vibrant, sweet tomato sauce.
Observing our neighboring patrons made it obvious to us that Mangiamo is well on its way to achieving its goal with regulars, who are already making this their Third Place. We will return to try the tempting Sicilian pan pizza and the bursting calzones and check on that "ever-changing variety" of wines with perhaps a little added local flavor.
---
Mangiamo
Address: 845 Almar, Santa Cruz
Phone: 831.458.1000
Hours: 11am-10pm daily.
Price Range: $5-$28.
Send a letter to the editor about this story.