April 26-May 3, 2006
home | metro santa cruz index | santa cruz county restaurants | review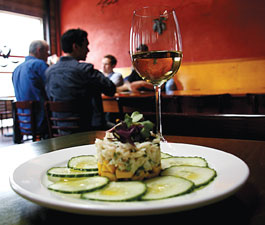 Photograph by Leyna Krow
Bite-Size Brilliance: Soif fare is cause for celebration.
Thirsting for a Nibble
Soif serves up bite-size plates for the gourmet appetite
By Selene Latigo
I know it sounds ridiculous, but I've always celebrated my half birthday. Mom-sanctioned slumber parties and cupcakes, as a child, have become cards with "half" scrawled above the bold birthday greeting as an adult. This weekend I decided to honor the six-month milestone with dinner featuring a most fitting category--the small plate. We don't have many options when it comes to small plate destinations. However, there is one local standout destination that's geared toward little creations, offering you an e xpertly paired wine with each menu item or letting you choose your own from a diverse list. My proposition made Dave smirk a little at the self-indulgence of it all. But when Friday night arrived, he was more than happy to partake in an evening of creative little bites at Soif.
Like always, the dining room was packed at 7:30pm. Urban sophistication meets rustic comfort in every design aspect, drawing people in effortlessly to sample from the high quality, well crafted menu and wine list. No reservations are accepted on weekends, which leaves seating to patience, timing and luck. The two of us slipped surprisingly quickly into a newly vacated wall space to begin the celebration. In keeping with the "half" theme, our plan was to share everything between the two of us. One reason I always enjoy my time at Soif is the way they encourage freedom of choice, whether it be a single glass of wine or a long, multiple course meal with friends taking over the entire central communal table. Our server reinforced this easygoing flexibility throughout the night as our pace ebbed and flowed from one dish to the next.
Our first choice was the fresh hearts of palm appetizer with fried green tomatoes ($10), which we paired with a glass of their suggested white wine, the 2004 La Tarciere Muscadet ($5.25). This dish was texturally complex with tangy soft and warm green tomato, the peppery crunch of micro greens, sweet silky dark balsamic reduction and the refreshing sour snap of the hearts of palm. The wine, reminiscent to us of green apple and watermelon rind, was an appropriately springlike accompaniment.
Then we selected a couple of small plates, this time relying on our server's wine knowledge to choose a matching glass. I always come away from Soif feeling like part of my bill has paid for my schooling in wine appreciation.
The pumpkin-seed-encrusted chèvre with pomegranate molasses crostini ($3) was full of the deep, tart fruit, almost drowning out the fresh cheese and seeds. The presentation, however, allowed us to control the ratio of ingredients we spread onto the crunchy toast. The fragrant lamb meatballs with almond sauce ($4) were pan-fried and placed atop a small puddle of creamy nut-infused sauce with a distinct anchovy flavor. Both of these plates were enhanced by what became my favorite wine of the evening, the 2001 Tilenus Mencia ($11), blooming with lilac in the beginning but then lessening into more minerality as it breathed.
Next we branched out on our own, because we really wanted to try the 2002 Cantina Terlan Lagrein ($8.25). Although this choice probably wasn't the best pairing, its smoky and evolving structure ended up working well, especially with the perfect risotto fritters ($5), otherwise known as "little oranges" in Italian due to their deep-fried and golden spherical shape. The crispy breading was well seasoned, encasing balanced and creamy risotto and a gooey fresh mozzarella core. The two orbs were served with a fresh-style chunky and bright tomato sauce. We also ordered the farinata with caramelized onion and sage ($5), a unique chickpea flour pancake that was extremely tender but somewhat indistinct in flavor. And finally, the two spear-shaped minifillets of Spanish mackerel with pimento were skillfully grilled with crisp and smoky skin, simple seasoning and an appealing jerklike chew. All of this was accompanied by fresh and toothsome slices of bread and buttery olive oil.
Even a half celebration needs a cake. The warm chocolate cake ($6.50) was a molten beauty, served with a succulent scoop of passion fruit ice cream in the center. The slightly crisp scalloped edges of the cake gave way to decadent oozing bittersweet batter with the sweet sour tropical ice cream pooling into every bite. The only thing missing from this flawless night was perhaps a half-burnt candle for me to blow out, wishing for another meal like this sooner than my real birthday.
---
Soif
Address: 105 Walnut Ave., Santa Cruz
Phone: 831.423.2020
Hours: 5-11pm Mon-Fri, 3-11pm Sat, 4-10pm Sun
Price: $3-$19
Send a letter to the editor about this story.