06.03.09
home | metro santa cruz index | music & nightlife | band review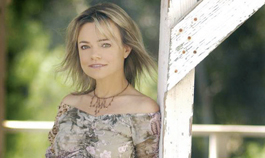 Dr. Feelgood: Ph.D.-wielding songstress Michelle Chappel works inspirational messages into her songs.
The Chappel Show
Former UCSC psych prof Michelle Chappel parlays her personal coaching work into songs.
By Traci Hukill
THE WORDS kept elbowing their way to the front of her mind, so at practice that afternoon Michelle Chappel let the band in on the joke: a song that seemed to be writing itself with the refrain "Screw you, Yahoo." It was December 2008, and the company was on its third round of layoffs for the year. Though Chappel's position as a usability consultant insulated her from the dreaded pink slip, her teammates enjoyed no such guarantees, and it bothered her.
"I was surrounded by people who were freaking out. I absorbed all their tension, and I felt so bad for them I tried to figure out how I could relieve their tension."
The result was a jaunty, cornball acoustic number on how bad it feels to be laid off and think it's your fault when it's not. An accompanying video posted to YouTube featuring the diminutive Chappel showing flashcards with key words from the song became an instant hit around the office and a brief Internet sensation, garnering 17,000 viewers on its peak day.
"I think the video's more relevant now than it was then," Chappel says. "There's research that shows being laid off really hurts your health. It's not good for you at all, and people do it so easily--it's such a regular way of coping with business problems. I was saying, 'Isn't there a better way to do this?'"
All of it--the creative impulse, the concern for others, the agency to act on that concern--is par for the course for Chappel, a Princeton-trained psychology professor who left a secure job teaching at UCSC when she realized she'd outgrown the role that set her on the path to academia. With that leap, she embarked on a musical career and started coaching--"usually people in transition"--to help them shake off outmoded behaviors.
"We come into the world, we're brought into our family and we take on these roles, and it may not be who we are, but it works at the time," she says. "And then we go to school and we're rewarded for repeating what the teacher says. We're rewarded for following, and slowly over time we lose pieces of our true self. My whole mission is to help people get back to that place."
That mission is amply evident in her music, a country-pop amalgam built around Chappel's surprisingly powerful, expressive alto. Many of her songs contain messages of uplift, and while lyrics like "Shine/ Let your spirit come through/ Shine/ Just be real" aren't everyone's cup of tea, they are undoubtedly the work of a brave original. The new release Shine, her fifth CD, includes "You Can Make It," about escaping an abusive relationship, as well as a cover of "Me and Bobby McGee." Without question, Chappel has a plan.
"I'm kind of hoping I can help people make little breakthroughs and not even notice that it's happening," she says.
MICHELLE CHAPPEL's CD release party for 'Shine' is Thursday, June 4, at 7:30pm at Don Quixote's, 6275 Hwy. 9, Felton. Tickets are $8 advance/$10 at the door. (831.603.2294)
Send a letter to the editor about this story.