06.03.09
home | metro santa cruz index | features | santa cruz | feature story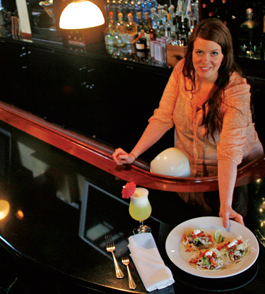 Photograph by Curtis Cartier
Small is Beautiful: Manager Lindsley Britton shows off one of Bittersweet's Recession Busters: three tacos and a margarita for $11.
Recession Indulgence
For our Food & Wine issue, Christina Waters finds a treasure trove of yesterday's prices on today's menus.
By Christina Waters
WELCOME to the world of economic downsizing--yours, mine and everybody's. One strategy for coping is the masochistic response. You know, buy megatubs of overly processed stuff at Costco and sit at home with Netflix and a box of Kleenex. Another style is to get creative about restaurant and club specials and take advantage of expanded happy hours, early bird specials and weekday dining promotions. We looked around and found a few choice examples.
1 Happy Hour at Hawg's
1917 Mission St., Santa Cruz
831.458.3474
www.HawgsSeafood.com
Illustrating the enduring appeal of discounted drinks and modestly priced appetizers, the area's newest seafood dining-room-with-a-bar is helping out impecunious patrons with a healthy sense of Happy Hour happiness 4 to 6pm every single day of the week, and from 11:30am until 6pm Friday, Saturday and Sunday. As one Hawg's spokeswoman put it, "That makes for a very happy weekend." Indeed, especially since you can swill the tequila-intensive Hibiscus for a dollar off while devouring a $7 seafood quesadilla. Hawg's Happy Hour gives you raw oysters for a buck each, roasted garlic bread for $2 or an order of popcorn shrimp for $6 to go with that $7 Pimm's Cup. Anything behind the bar is $1 off.
2 Breakfast for dinner at Café Violette
104 Stockton Ave., Capitola
831.479.8888
Since British-born Tina Davey-Lee took over this landmark in the very center of Capitola Village, it has grown in local appeal past its former ice cream shop reputation. Following her dream to California, Davey-Lee opened up the floor plan and invited locals to indulge in breakfast all day long. "People don't like to be limited. Now it's one of our most popular things," she says. The idea of an omelette burrito for dinner does sound not only tasty but inexpensive. Breakfast for dinner--obviously a great idea when you're watching the bottom line. But Davey-Lee refuses to succumb to doom and gloom thinking. "I think the recession is good for weeding out bad businesses," she maintains. "We have not been affected one bit by the economy--we're not tourist-driven, we're here for the locals." Café Violette is open daily from 8am to 8pm, and until 9pm on weekends.
3 Mondays at Johnny's Harborside
493 Lake Ave., Santa Cruz
831.479.3430
www.johnnysharborside.com
Here's another full-service drinks and dining establishment helping you economize while you dine out. And with specials every day, you're bound to get lucky--financially and otherwise. Johnny's goes the extra distance, featuring Bloody Mary and Mimosa specials with its weekend brunch menus, plus a Monday $20 gourmet dinner. This is a full-on three-course dinner driven by specialties like asparagus salad and entree of katsu chicken with ginger biscotti for dessert and a glass of Thomas Fogerty Chardonnay. All that for $20. And all week long there are $10 lunches that include a half sandwich or wrap, a small salad and a small cup of soup. They're not kidding about trying to make you offers you'd be silly to refuse. The view alone is worth the promotional bargains--and Johnny's full bar makes lingering downright effortless.
4 Recession Busters at Bittersweet Bistro
787 Rio del Mar Blvd., Aptos
831.662.9799
www.bittersweetbistro.com
On the forefront of budgetary belt-tightening, Bittersweet started inviting the folks to dine often and well (for not much money) quite a while ago. Bold and honest, the Bistro advertises its weekly array of food and wine specials as "Recession Busters & Crushers." I'm down with that, especially since the Saturday night version involves wood-fired pizzettas for $6--and a cocktail for a mere additional $5. Bittersweet runs these nightly specials in its spacious bar area. Monday is special appetizers like roasted artichokes, fried calamari or chicken taquitos plus a martini. Tuesday it's three tacos with a margarita, Wednesday pastas with red wine. Thursday, mini-cheeseburgers or pulled-pork buns with beer, and on Friday a fish fry pairs with a glass of fine wine. Saturday pizza, and on Sunday you can feast on comfort food like meatloaf with mashed potatoes, or beef stroganoff, plus a glass of selected wine. Each food plate is $6, and each accompanying libation is $5, all served in the lounge. You can do that much, can't you?
5 Tuesdays at Michael's on Main
2591 Main St., Soquel
831.479.9777
www.michaelsonmain.net
Michael's has always made happy hours special, with irresistible appetizer discounts along with expert cocktails. But every Tuesday the Food & Wine pairing--6:30-8pm, $25 per person--lets fiscally conservative gourmets graze through a special dinner created to showcase special wines. For example locally pastured TLC, grass-fed pork was featured in a meal matched with wines by Cinnabar. Pear almond tart dessert and music by John Davis. Each of these Tuesday dinners features a theme--Southern hospitality, Hawaiian islands, a trip to Spain--each one joined by top local wines and enjoyed along with live music. That's a lot of evening pleasure for less than you would think. On June 30, Michael's Tuesday pairings involve farmers market bounty--the fresh and the seasonal, joined by Storrs Winery specialties and music from David O'Connor. You really have no excuses.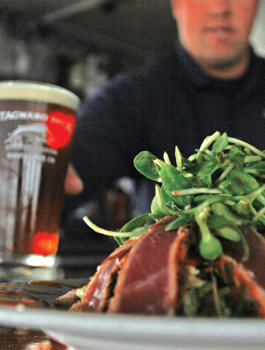 Photograph by Curtis Cartier
What Ales You: A $3 pint of Stagnaro Brothers pale ale and a seared ahi appetizer ought to cure most of life's little problems.
6 Fridays at Vinocruz
725 Front St., Suite 101, Santa Cruz
831.426.8466
www.vinocruz.com
Since woman does not live by bread alone, our one and only downtown oenoteca dedicated entirely to fine Santa Cruz Mountains wines--Vinocruz--is at our beck and call (well, you know what I mean) on Fridays. Wine Down Friday, back by popular demand, is a chance to appreciate a glass of really terrific wine out on the patio along with a cheese plate. That pretty much takes care of all the important food groups. On Fridays, Vinocruz offers a selection of wines by the glass for $5 (five bucks!) from 5pm until 6:30pm, the classic Friday happy hour timeframe. Just last Friday Vinocruz was offering the lovely 2007 Foxglove by Varner, Cabernet Sauvignon for $5 a glass. And if you order a cheese plate with your glass of wine, during Wine Down Fridays, the entire tab comes to only $15.
7 Tuesdays at Severino's Grill
7500 Old Dominion Ct., Aptos,
at Seacliff Inn
831.688.8987
www.seacliffinn.com
In the world of bargains, some stand out. Like this possibility. Severino's Grill, housed inside the Seacliff Inn, makes Tuesday very special. Here's how. On "Tasty Tuesdays" everything on the entire menu--breakfast, lunch and dinner--is half-price. Put it another way, 50 percent off the entire menu. Whoa, are they serious? Yes. That means items like seared ahi tuna appetizer: half off. Rack of lamb: half off. Huevos Rancheros, ditto. Let's do that math. If you order Huevos Rancheros ($9.99), you will pay $9.99 plus tax (let's say that makes it $10.75). Now take half of that: $5.38. That's all you pay. The price of your order, with tax added, then slashed in half. Lunches of skirt steak salad, or fish and chips? Half price on Tuesdays. Essentially, that veal piccata you love ($22) ends up costing somewhere near $12. Recession? What recession?!
8 Tuesdays at Shadowbrook
1750 Wharf Road, Capitola
831.475.15211
Here's a very upbeat idea that involves only a tiny bit of advance planning. The concept is like an early bird, Tuesday evening, food and drink discount. "Two-Fer" Tuesday offers cocktails, beer and wine for $3.50, plus all pizzas and appetizers priced "Two for One," and it all happens between 4 and 6pm in the extremely handsome, vivacious atmosphere of the Shadowbrook's cocktail command center, the Rock Room. Got that? Tuesday, early evening, inexpensive cocktails, two for one bar food. If you linger longer, you can catch Ken Kraft and Karin Phoenix in the lounge starting at 6:30pm every Tuesday evening. Shadowbrook owner Ted Burke reminds me that the restaurant's overall approach to "economic challenges" has been to hold prices to reasonable dimensions, both in the legendary dining rooms, as well as the Rock Room Lounge with its "lighter fare and lighter price points."
9 Happy Hour at Stagnaro Brothers
Santa Cruz Municipal Wharf
831.423.2180
You are upstairs in a local wharf landmark, looking out over Steamers Lane, the Lighthouse and the Boardwalk. You're being soothed by the waves, regaled by seagulls and in general feeling very close to stress-free, and you're quaffing your favorite beverage at bargain prices. This doesn't feel like a rock-bottom recession scenario, now does it? Well, it is. Because you're out at Stagnaro Brothers, where Happy Hour is an authentic expression. From 3pm to 5pm on weekdays you can stroll out almost to the end of the wharf (where I used to get those little cups of shrimp cocktail when I was a kid), head upstairs to the upper deck and politely request a $3 pint of beer. Or you could sip a $4 glass of wine. Appetizers are $2 off, so that you can afford to enjoy something in the key of seafood with that lager. This is a no-brainer.
10 Weekdays at Café Cruz
2621 41st Ave., Soquel
831.476.3801
www.cafecruz.com
Chef Steve Wilson makes sure his customers can enjoy top quality for low prices. The Monday-Thursday $12.95 special just could be your new best friend. Meatloaf--the way Wilson's mom used to make it--with gravy and mashed potatoes, plus veggies, $12.95. Or hickory-smoked ribs with sauce and two sides, or spit-roasted pork loin with two sides. Are you getting this? These meals cost $12.95. "We always have the $12.95 special, Monday through Thursday, and folks can call us to find out what the special is on any given day," he says. Dinner-size salads and dinner sandwiches are now on the menu, like the 11-ounce bistro steak sandwich with house onion rings and a caesar salad for $16.95, or the Kobé burger with fries for $13.95. "We've got a lot of dinners under $15," Wilson promises. Dinner starts at 5:30pm seven nights, and lunch runs 11:30am-2:30pm; bar menu 3-5:30pm Monday-Saturday.
Send a letter to the editor about this story.