06.03.09
home | metro santa cruz index | santa cruz county restaurants | review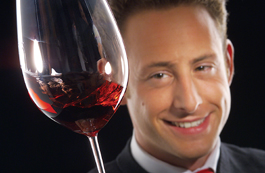 Upper Glass: Maximilian Riedel shows off the family jewels.
The Riedel Advantage
Mere luxury or worthwhile expense? Riedel glassware makes a persuasive case for the marriage of fine design, sensory input and hard science.
By Christina Waters
WINE potentate Robert Parker Jr. once said of Riedel stemware: "The effect of these glasses on fine wine is profound." For 11 generations the Riedel family has dealt in glass, and in the 20th century that expertise translated into goblets so deftly designed that the prototype ended up in the Museum of Modern Art. Last week Maximilian Riedel, who heads up the family's New York office, came to convince a crowd of California restaurateurs and winemakers that his glassware truly enhances the expression of fine wines. He was convincing.
First off, let's clarify. Riedel makes over 300 different kinds of stemware--glasses to suit specific beverages and wine varietals, hand-blown lead crystal glasses and lead-free, machine-crafted glassware for tasting rooms and restaurants. The demo I attended at Carmel's La Playa Hotel last week showcased the latter--glasses that, as the whippet-thin Herr Riedel explained, "translate the message of the wine."
We began with a sharply-tapered beauty "designed in response to more dense and concentrated wines." In this case, a sauvignon blanc. Next to it, a lavish goblet with the Burgundian inward pinch about a half-inch from the top was designed specifically for pinot noirs, and another--with a short stem and tall flowing balloon, was "developed between 1993 and 1995," Riedel explained, "after tastings in every major syrah growing region. The winemakers contributed their views and we came up with this." He brandished the delicate glass filled with a 2004 Michaud Syrah from Chalone, exuding roses and black pepper.
"Glass has a great impact on the wine," he intoned, spitting expertly into a nearby bucket. "If we taste wine in different glasses, the perception is going to be different." And it was. Swirl, look, sniff. We learned about the four taste zones on the palate--sweet, sour, salty, bitter. We were urged to note mouthfeel, umami, as the angular sauvignon blanc glass channeled the wine straight to the tip of our tongue. That way we first taste the herbal notes, not the wine's high acidity. Noting the silkiness and aromatic nuance, I swallowed. Sure enough, there was a Granny Smith apple finish. "This is a very good food wine," he beamed.
The ample curves of the syrah glass, on the other hand, coaxed the flow of wine to the midpalate, where the silky mouthfeel and sensuous fruit was foregrounded, with tannins following. To make his point--and this was done with each of four different wines--Riedel had us pour wine from his glassware into a thick-rimmed, generic restaurant goblet. The results? "No aroma, very acidic and short aftertaste," he said, reading our minds. We poured the wine back into the Riedel glass and voilą--the complexity returned. Riedel glassware in each case enhanced the wines--an added value for tasting rooms and restaurants--and for consumers willing to pay from $10 to $50 per glass.
A Wine to Love
Southern Right Sauvignon Blanc 2008, Walker Bay, South Africa, 13 percent alcohol. A multilayered bouquet of minerals, tangerine and concentric structure, this beauty is big enough to sip on its own yet makes a splendid partner to green olives, Camembert and grilled halibut. $14.99 at Shopper's Corner.
Send a letter to the editor about this story.