06.03.09
home | metro santa cruz index | movies | current reviews | film review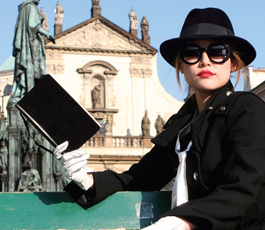 Photograph by Slobodan Pikula
TRAVEL GUIDE: Rinko Kikuchi plays a globe-trotting demolition expert in 'The Brothers Bloom.'
Blooms in Love
Rian Johnson tours the Balkans in postmod tale of con artists, 'The Brothers Bloom'
By Richard von Busack
FROTH DE LA FROTH, a cinematic peach melba. The Brothers Bloom is Rian Johnson's follow-up to Brick, a similarly dazzling exercise in style (and a little substance). I think any young American artist with talent, ambition and a success under his or her arm would want to go straight to Eastern Europe. Mexico could do, also, but the kids these days don't get it--too bad for them: "I don't want to simplistically vilify an entire people, but Mexico is a horrible place," says one of the continent-hopping con-artist brothers of the title. This dumb insult is forgivable because these are movie characters we're talking about--the Bloom Brothers know they're in a movie as much as we know it. And they also know what happens to movie characters when they get south of the border: Fate Catches Up, an Appointment in Santa Samarra.
What I mean to say is that Johnson does the Balkans (and the other global locations) proud. The humongous Soviet relics, tragic coasts, molded-plaster swank and crazy backward alphabets of the Balkans really bring out the Orson in a director. The final shootout takes place in an abandoned seaside pavilion that would have made Greene keen and Welles kvell. The postmod intentions are clear right off in naming this pair of grifting brothers Stephen (Mark Ruffalo) and Bloom (Adrien Brody). The patient Penelope, to round up the Ulysses cross-references, is Rachel Weisz.
Too many directors have been shoving this lovely actress toward maternal seriousness. Darren Arnofsky just about entombed her in a crystal coffin in The Fountain. Johnson finds a '60s kook in Weisz's plaintive straight face, making her a screwball heiress, formerly a bubble-girl because of her allergies. Weisz's kidlike brio is irresistible. She has a drunk scene on a train that certainly beats the toylike choo-choos in Wes Anderson's far less enjoyable The Darjeeling Limited. Moonlit and plastered, Weisz crows with pleasure over a thunderstorm outside the train's window; the scene is fit make you run for the nearest Amtrak station with a fifth of something and a national weather report.
The Brothers Bloom is a combo of 1930s comedy and Richard Lester-style Swinging London editing. Surprising how easy a sandwich made of these elements goes down. The brothers' cohorts seems to have dropped in from an especially Ian-drunk spy movie. Their regular partner is the chic Asian demolition expert Bang Bang (Rinko Kikuchi). Pursuing the brothers, probably, is an eye-patch-wearing Maximilian Schell. He has the juiciest line: "Are you afraid of an old man without depth perception?" The muzzy Ruffalo is just right; he has a con man's too-honest face. Brody does soulful, and that's what he always does, a little relentlessly. Maybe someone a little more warm-blooded could have shown both necessary remorse for a life of swindling, as well as the lingering appetite for it. As it stands, this cinematic taffy starts to get pulled a little too far by the endgame. Interesting to note that Johnson again likes to see a hardboiled hero in tears at his finale, as in Brick. I think he worries about the sensitivity of the characters in his entertainments, which he shouldn't. While this will be way too coy for the straightlaced, for me it was love at first grift.
THE BROTHERS BLOOM (PG-13; 113 min.), directed and written by Rian Johnson, photographed by Steve Yedlin, and starring Rachel Weisz, Adrien Brody and Mark Ruffalo, plays at the Del Mar in Santa Cruz.
Send a letter to the editor about this story.