06.03.09
home | metro santa cruz index | movies | current reviews | film review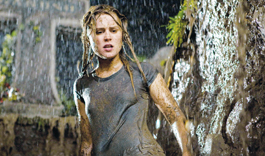 Photograph by Melissa Moseley
GRAVE HEART: Alison Lohman gets soaked in her battle with evil in 'Drag Me to Hell.'
Loan Ranger
Sam Raimi returns to 'Evil Dead' form in smart, spooky 'Drag Me to Hell'
By Richard von Busack
SOME Strunk and White rule of show business should insist that the word "Hell" in a movie title must carry an exclamation point. Otherwise, Drag Me to Hell misses no tricks, proving that a movie can be both spine-tingling and droll. Alison Lohman makes a spirited scream queen under Sam Raimi's endlessly witty direction. Raimi (of the Spider-Man trilogy and, more relevantly, the Evil Dead series) illuminates the girl's backstory with a few well-chosen images. And he plays the class card as if this were a game of slapjack. Seeing bankers get what's coming to them--even a banker one likes--shows some serious zeitgeist.
Drag Me to Hell is a startler, and yet one doesn't get irritated by the jump-ups. They pay off and are as well planned as anything else in the film. So much in Drag Me to Hell depends on atmospherics, makeup and orchestral music. Christopher Young's inspired, crescendo-heavy soundtrack gets you juiced, with its shredded-violin references to Saint-SaŽns' Dance Macabre. And here are visual effects that haven't changed since Murnau: the scuttling dead leaves that chase a fleeing figure; the clutching shadow hand that sneaks under a doorway and falls palm first on a lovely and sad female face.
Lohman's Christine puts up a vigorous defense against the Unknown, though, dropping a damn anvil on its head at one point. Under the stress, Christine reverts from dutiful loan arranger to the tougher girl she once was. Lohman has one moment of insane hysterical laughter, proving well how an actor's freshness can bring the unexpected even unto a well-storyboarded action scene. After a nightmare-tormented evening (bug vomit; dead, toothless Gypsy French kiss), Christine is late for work. The obsequious butt-kisser (Reggie Lee, hilarious) next desk over comments about it. She snarls back, "What are ya, the hall monitor?"
In our cinema, too many spookhouses charge social property tax. Since The Exorcist, when the hellmouth speaks, it usually says, "This Sunday, go to the church of your choice." Piety is not in Drag Me to Hell's equation; there are no priests (or shabby scholars or aged cotton-topped sages) to slow this story down. Christine's fellow hellfighter is a good-looking, solemn, kaftaned swami (Dileep Rao), who is conversant with Jung as well as more arcane books. He tries to diagnose Christine's problem: "Did you blaspheme against the devil in a graveyard? Did you consort with cursed spirits on a Ouija board?"
We know what Christine's major malfunction is from the wonderful previews: trying to toughen up as a loan officer, she turned down an extension on an old Gypsy's mortgage. Perhaps not PC. As racial slurs go, having the world tremble with fear about your curses is low impact. Protesting against such hooey would be like Joey Skaggs' famous prank of holding press conferences urging legislatures to "rename the Gypsy Moth--we Gypsies have suffered enough."
In any case, Lorna Raver's performance as the accursing crone Mrs. Ganush shows instances of Lugosian anguish. And Justin Long edges his way out of light comedy here; he's very gentle as the boyfriend who can only watch helplessly as an evil spirit gives Christine 72 hours' notice. Did I mention Mrs. Ganush's explanation of her cataracted gaze: "The sickness took my eye"? The police doctor muttering offstage, "An obvious case of post-traumatic-stress disorder"? A hissing black cat named Hecuba? The rich and horrible dinner party that seemed to be right out of BuŮuel? The talking billy goat?
DRAG ME TO HELL (PG-13; 99 min.), directed by Sam Raimi, written by Sam and Ivan Raimi, photographed by Peter Deming and starring Alison Lohman and Justin Long, plays countywide.
Send a letter to the editor about this story.