June 14-21, 2006
home | metro santa cruz index | santa cruz county restaurants | review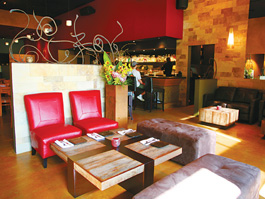 Photograph by Carlie Arnold
La Vida Loca: The former Costa Brava gets an extreme makeover that's sure to please.
Out With the Old, in With the New
Get the inside scoop on the recently renovated Vida Lounge & Grill
By Janet Blaser
Certain to become downtown's newest hot spot, Vida Lounge & Grill has revitalized the-restaurant-formerly-known-as-Costa-Brava in a big way. In the words of owners Juan and Laurie Negro-Valledor, "change is good." In this case it's not so much a change as a spectacular makeover that should be seen, heard and tasted as soon--and often--as possible.
Teaming up with restaurant consultant Mimi Snowden, they started by remodeling the interior of the spacious building, wreaking delightful havoc on the existing floor plan and overhauling an admittedly inconsistent menu. More than a decade of habits disappeared in barely four months, replaced by a crisp, organic ambience that's a balance of sexy, earthy elements, quality staffing and a menu full of food you'll want to eat again and again.
And what an eye-opener it is. It's hard not to stop and stare the first time you walk in, because it's all so very different. Those of you who've missed the couches (and there were many of us, says Laurie) will be thrilled to see an entire lounge area with separate seating spaces--rooms within the room, if you will--tastefully furnished with brown leather love seats, suede benches and ottomans, and lusty red leather chairs. Low, square tables provide enough room for drinks, appetizers or a multicourse dinner. Sand-colored limestone calls attention to some walls, while gigantic mirrors draw the eye up and show off the Italian chandeliers. Elsewhere, deep-red, rose-patterned tapestries hang from floor to ceiling, softening the sound. The bar area, previously a bit cramped, has been (thankfully) expanded as well.
Although I'd be hard-pressed to choose a crowning glory, the redo of the "time-out" room in the back might just be it. This long, narrow room always bristled with unrealized potential. Now, the beauty of its curved ceiling is echoed in high-backed red velour booths, deep black tables and an intimate ambience that may have this nicknamed (ahem) the make-out room. Intended for groups of four to six at each booth, it's also perfect, curtains drawn, for a small private party.
Mimi, a Cordon Bleu-trained chef and former restaurant owner (Café Sparrow, Bleu Spoon), worked with the existing kitchen staff to create a new menu that's lively and contemporary, yet friendly, familiar, healthy--and quite frankly, delicious.
"I like restaurants with foods that people really eat, food that's not too rich," says Mimi. "Food you can eat with your fingers, and food you can feel good after."
The big, new grill is the headliner, enabling even the humblest dish to emerge triumphant. Flavorful aiolis, relishes and herbed butters are perfect complements to the roster of simple Mediterranean entrees with a decidedly Spanish flair. A California Paella, chock-full of a mélange of seafood, tastes lusciously of saffron; the exotic Gypsy Salmon on Corn Cakes ($18.95) is, indeed, true to its name. Sweet Red Cornish Hens ($17.95, Mimi's favorite) are a rarity in this town. Marinated with honey and paprika, in a sweet and spicy au jus, they are tender morsels to be happily devoured. Another winner, the Canary Island Seafood Stew ($17.95), delivers subtle, surprising flavors amid chunks of salmon, prawns, mussels and coconut-chile rice.
The large tapas menu allows those parked in the lounge to eat easily, and if you can't decide which of the 20 or so to choose from, try the Tapas Platter ($12.95). Big enough to share, items range from smoky, melt-in-your-mouth Rice Croquettes to refreshing Crostini with grapes, chicken and Gorgonzola or the simple Juniper-Cured Salmon, made in-house and exquisitely paired with apple and cucumber. Beautiful full-meal salads--nary a Caesar among them--have lots of grilled veggies, dried fruits, nuts and cheeses. The Barcelona ($14.95), fresh greens with pickled red onions, orange slices, olives, fresh feta and either grilled chicken or shrimp, truly hits the spot with its splash of cilantro vinaigrette.
And if you've room for dessert, don't pass up the decadent Beso de Vida ("kiss of life"), a filo-wrapped banana-cream-chocolate creation that's a fitting end to the evening.
What of Costa Brava remains? Well, Mattie Leeds' black ink drawings still grace the one wall and tie in neatly with the iron sculptures atop dividers separating the dining room from the lounge/bar area. There are still a handful of favorite menu items, and the other two Costa Brava locations are alive and well. But, you know, change is good--and in this case, it might just be great.
---
Vida Lounge & Grill
Address: 1222 Pacific Ave., Santa Cruz
Phone: 831.425.7871
Hours: Dinner 5-11pm daily
Price Range: $6.25-$21.95.
Send a letter to the editor about this story.