June 14-21, 2006
home | metro santa cruz index | news | santa cruz | news article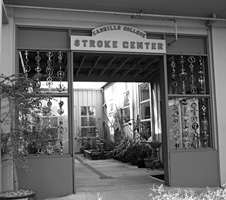 Standing Tall Again: A 'Raise the Roof' fundraiser aims to keep the Stroke Center high and dry until its relocation.
Different Strokes
After 30 years atop De Laveaga park, the Stroke Center finds a new home
By Mike Connor
De Laveaga park has had many faces during the past 100 years--a military training ground, a zoo, an archery and shooting range, a golf course--but even local historian Ross Eric Gibson, whose account of the park reaches back to the Mesozoic Era, would be hard pressed to recount a use as inherently sacred as the daily goings on at the Cabrillo College Stroke and Disability Center.
Operating under its motto, "Love Spoken Here," the center served 177 students this past year with an innovative and compassionate program of counseling as well as physical, occupational and speech therapy. For the students who can't speak, there's song.
"We have students with aphasia who can't speak, but they can sing whole songs with words," says Stroke Center director Debora Bone. "They can still sing along because it's a different part of the brain."
Located behind the 911 center and overlooking an extraordinary vista of the Monterey Bay, the building housing the Stroke Center is a brick-and-mortar embodiment of its other motto: "Standing tall again." Sure, it's got some leaks in the roof, hence the June 17 "Raise the Roof" dance and fundraiser, featuring ukulele jazz by Tiki King and the Idol Pleasures, three-part harmonies from the Alchemy Brothers, entertainment by Micky Magic and a silent auction of student artwork, the proceeds from which will go toward fixing the roof.
Originally built in 1948, the Naval Reserve Training Center fell into disrepair and was thoroughly vandalized by the time the "Stroke Activity Center" outgrew its ad hoc home at the Green Acres Elementary School in 1975, when the center widened its net from stroke victims to anyone with acquired disabilities. According to Gibson, the city of Santa Cruz donated the abandoned naval building to accommodate the Stroke Center, and with help from a legion of volunteers and epic fundraising efforts, the building was renovated and operational in 1976.
The program itself, initiated by a group of teachers who all had strokes, was innovative because of its unique approach to treat rehabilitation like going to school--hence its longstanding affiliation with Cabrillo College. Rather than relying on health insurance as most physical therapy programs do, Stroke Center classes are paid for by the unit like any other community college class, meaning that, thanks to special funding at the state level, a Stroke Center student can max out at 10 units, go to school four days a week and pay less than $300 for an entire semester.
"They relearn how to balance, walk and talk," says Bone, "things you wouldn't think you'd ever have to go to school to learn. But it's amazing that with practice and patience, they often make good progress--even though their doctor said it's as good as it's going to get."
The students also help each other work through or around their disabilities within an accepting community environment, where they can take computer classes, learn adaptive gardening, play in Bocci tournaments or hit balls at the driving range. An emphasis on the therapeutic power of art--throwing pottery, painting, weaving--has been a mainstay of the center throughout the years.
Strangely enough, the Stroke Center's activities were apparently foreseen by two of the park's stewards around the turn of the century. Writes Gibson, "By sheer coincidence, this model program, copied around the world, not only embodies T.M. Fuller's 1903 concept for an experimental park university here, but also fulfills De Laveaga's 1894 will that his park contain a facility to serve the disabled."
Even so, the era of the Stroke Center at De Laveaga Park will come to a close in 2009-2010, thanks to bond money recently awarded to Cabrillo College, which is building a new facility for the center at its main campus. It's a bittersweet change for Bone, who enjoys the beauty and spaciousness of the current facility and surroundings but also sees the immediate benefits of her students being located next to a fitness center and having more contact with students in the nursing program.
What will become of the old Naval Reserve Training Center, at this point, is anybody's guess.
Raise the Roof, featuring Tiki King and the Idol Pleasures, Singing Wood, Alchemy Brothers and Micky Magic, happens Saturday, June 17, noon-5:30pm at the Cabrillo College Stroke and Disability Center, 501 Upper Park Road, Santa Cruz. Donations $10-$100 will help repair the roof and support ongoing programs. (831.425.0622)
Send a letter to the editor about this story.