07.09.08
home | metro santa cruz index | columns | the rock show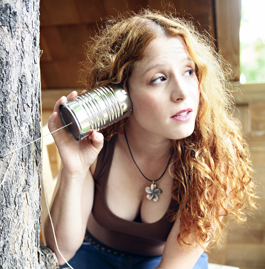 Tin Can Alley : Pop-blues diva Nina Storey plays Kennolyn this Sunday as part of the Garden Concert Series.
Storey Time
Nina Storey is riding high on an eclectic new album.
By Garrett Wheeler
Nina Storey is stuck on a layover at Denver International. The young singer/songwriter hasn't slept in two days, but there isn't even a hint of fatigue in her voice. In fact, she sounds eager to talk--even if she is contemplating which row of seats to occupy for a nap. Storey has good reason to be excited. She's just released a new album, So Many Ways From: me To: you, an eclectic array of bluesy, acoustic pop or what Storey calls "21st century soul." The record is wildly diverse, but always charged with emotion and a kind swagger that tells you--no, commands you--to lift your chin against unlikely odds. "The themes on the album are a little bit more personal than I've done before," Storey says. "All the songs are strong, important songs without bells and whistles--they're completely uncensored, unabashed displays of emotion."
The sixth track on the album, "Getting Over You," is emblematic of the album as a whole. It begins bluesy and soul-filled, then transitions into a sultry pop hook. After the hook comes the grand climax: a big, celebratory chorus that will have you clapping along to the beat, hands in the air, before calling your ex to say, "Have a drink on me, sweetie, I ain't never coming back!"
A host of A-list talents joined Storey in the studio to record So Many Ways From: me To: you, and the result is a musical complexity often lacking in the singer/songwriter vein. Among the list of contributors is Grammy Award-winning bluesman Keb Mo'.
"We had incredible guest musicians to work with, and Keb Mo' is so ridiculously talented--I'm honored to have him play on the CD," says Storey. It was also Storey's first time working with an "outside producer," L.A.-based Rob Giles.
In her mid-30s, the Boulder, Colo., native is already a veteran of the music trade. She has traveled and toured since she was a teenager; she made her first recording at age 12. Both her parents have backgrounds in the industry, and both are actively involved in Storey's career, managing, running sound and operating a newly established record company, Red Lady Records. Recently, the Storeys opened a studio in Ixtapa, Mexico. The formula evidently works.
"It's interesting--my parents were in the industry way before I was, but they've always been completely supportive while at the same time being pretty hands-off," Storey says.
So what's it like to function as a family business in the music industry? "Very cool," laughs Storey. "We've had some great adventures together."
Storey's annual visit to the Central Coast will take her to Monterey Live this Saturday and to the new Garden Concert Series on Sunday. The Garden Series, which event organizer Ed Lane compares to the "Mountain Winery, only with a full view of the Monterey Bay," kicked off in April with a performance by the White Album Ensemble.
Like many performers who include Santa Cruz on their list of tour destinations, Storey has an affinity for the place and the community. "The people here seem to get me," Storey says. "I'm blessed as a live performer to be in front of people who are down with my cause. The energy is always reciprocated with the crowd in Santa Cruz, which is a really exciting experience." Storey has also shared in a few of the delights Santa Cruz locals cherish with pride. "I've surfed here and I've been to the Mystery Spot--I'm a sucker for all that stuff."
Sucker or not, Storey is, in her words "psyched" to pay a visit to the Central Coast before embarking on a short West Coast tour that will eventually take her back home to Colorado. In between gigs, she's working on songs for a new album, as well as taking time to explore other, nonmusical endeavors. "I've become a supernerdy comic book lover," says Storey with a chuckle. "I love how comics and graphic novels have a script with dialogue, and then artwork--it's a really interesting art form." Her appreciation for creativity across different mediums is a telling characteristic for Storey, who says she performs as a musician in order to "relay what I'm feeling and have people connect with it."
"I believe that ideas and creative energy is constantly there, in the ether," Storey says. "It's just a matter of being open to whatever that passion is. I work hard to keep that channel open."
NINA STOREY plays Sunday, July 13, at 4:30pm as part of the Garden Concert Series at Kennolyn, 8400 Glen Haven Road, Soquel. Tickets are $28-$35; 831.689.0500. The show follows her appearance Saturday, July 12, at 7:30pm at Monterey Live, 414 Alvarado St., Monterey. $15; 831.375.LIVE.
Send a letter to the editor about this story.