07.09.08
home | metro santa cruz index | santa cruz county restaurants | review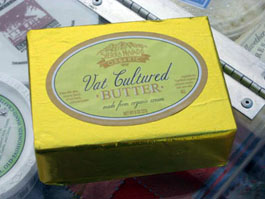 Fancy Fat : Sierra Nevada Cheese Co.'s artisanal butter is available at the Cabrillo Farmers Market.
Dish
Artisanal butter at the Aptos market and 'fruity spaghetti red' at Lillian's.
By Amber Turpin
SPREAD IT AROUND
Everything tastes better with butter, and now that the food-loving public is showing an interest in farmstead dairy products made closer to the source and farther from the feedlot, we have some amazing artisan options to spread around. Andrea London's California-crafted cheese outpost at the Saturday morning Cabrillo Farmers Market brings us a delicious example, created in Willows (near Chico) by the Sierra Nevada Cheese Company, known for its jack and cream cheese. It's an organic, salted, fat cultured (meaning fermented) butter that is creamy and balanced and downright amazing. There has already been a lot of publicity on this product, and London says to expect high awards at the upcoming American Cheese Society Conference in Chicago at the end of July.
FISH FRIDAY
Lillian's Italian Kitchen, the newish midtown mom-and-pop joint on Soquel, is offering Friday fish specials with a nod to East Coast tradition. Always seafood-centric (Catholic tradition dictates no meat on Fridays), the special ranges from linguine al fruitti di mare ("fruit of the sea") to the tomato-based fish stew called cioppino. This latter specialty finds appropriate pairing with our local Bartolo Winery's 2006 Cioppino Rosso, a bright and cheerful light-bodied red table wine that goes great with seafood. Though referred to as a red wine, it actually contains a larger percentage of white varietals. This inexpensive gem from Barry Jackson (who also makes the Equinox Champagne Cellars label) presents a surprising blend of 39 percent chardonnay, 23 percent merlot, 22 percent syrah, 13 percent tiesling and 3 percent malbec. Lillian's keeps the "fruity spaghetti red" (as described on the menu) chilled, "a really traditional Italian way to serve it," says owner Joe Moreno, creating a perfect summer beverage for any time of the day or night. One of Jackson's favorites is the Antipasto platter with roasted peppers, soppressata, pepperoncini, giardiniera, olives and fontinella cheese. I've sampled the Eggs Siciliano to much delight, and the Sunday Gravy--another family heirloom--is Lillian's own classic meat sauce. (831.425.2288 and www.equinoxwine.com)
OPEN AIR
On Saturday, June 21, the Museum of Art & History held its annual Plein Air Picnic, a preview luncheon to the art display and sale that takes place this weekend at the McPherson Center Courtyard. Hosted at a stunning private La Selva Beach home perched upon a bluff overlooking the stormy Pacific, the event was a total sensory delight. Members and attendees had the chance to view and purchase live landscapes being crafted by local artists, snacked on Gabriella Café focaccia with lovely wild mushroom pâté (made by the museum's own director of events and volunteer services, Allie Wilson), and enjoyed a lunch catered by Monterey Bay Caterers and accompanied by wines from Silver Mountain Vineyards. We were also graced by a truly memorable summer solstice afternoon of dramatic thunder and lightning that subsequently sparked hundreds of fires around the state. Artists wrapped their works, ticket-holders covered their plates of rosemary chicken and garlicky stuffed mushrooms and donors snatched glasses of 2004 Pinot Noir while the self-sufficient crew of hardworking volunteers scurried about to secure it all.
Send a letter to the editor about this story.