07.09.08
home | metro santa cruz index | movies | current reviews | film review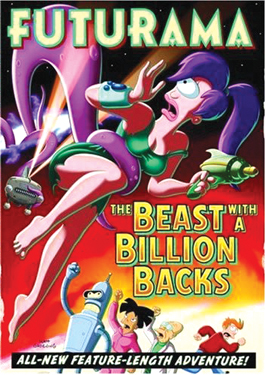 DVD Reviews
The Lawrence Jordan Album, 'Futurama' and 'The Gits'
The Lawrence Jordan Album; four discs; Facets Video; $59.95
In Lawrence Jordan's wondrous short film Duo Concertantes (1961-64), a bandaged man extracted from the pages of an old anatomy text hovers in front of a piece of 19th-century scientific equipment while glass flasks magically proliferate across the screen; a glowing, pulsing sphere (a planet, a seed, a ball of pure energy) sprouts moth wings and floats away, bounces through the exhibits at a Victorian trade fair and bursts out of the lens of a projector. Jordan's hand-crafted collage film turns an entire forgotten library of woodcuts, etchings and engravings into an animated adventures. It comes as no surprise to learn that Jordan (b. 1934) worked with Joseph Cornell, whose boxes and 2-D collages drew from the same rich midden of images, ranging from high-art reproductions to the detritus of old advertisements. Meticulously, frame by frame in 16 mm, Jordan hand-makes mysterious, fanciful films about eggs, flasks, acrobats, women with goldfish-bowl heads, spinning compass faces--all floating above tinted backdrops from Doré and other 19th-century illustrators. At times, the images change so quickly that the screen pulses like a strobe light. This remarkable four-disc collection surveys a brilliant career, from 1957's Waterlight to 1996's Postcard From San Miguel (Jordan retired in 1999 from the San Francisco Art Institute). Jordan's best works are his collage animations, set to Baroque music or Satie selections. The flow of images, sometimes starkly black and white, sometimes deeply saturated with color, delights the eye even if parsing them proves impossible. Sophie's Place (1986), an 86-minute epic, bridges cultures with a dancing Renaissance nude who alternates with a turbaned head in a grand mosque while ideal forms from Platonic philosophy wink in and out of existence. Jordan also shoots his own footage for more traditional films. The H.D. Trilogy Film (1990-1993), which takes up an entire disc, is a sepia-toned travelogue about the filmmaker's lover Joanna McClure. She see her wandering through Greek ruins while snippets of verse from obscure Imagist poet Hilda Doolittle are read on the soundtrack. It surely satisfied some memorializing urge by the filmmaker but is nearly unwatchable. Cornell, 1965 shows Jordan's mentor at work sorting materials for his art boxes, including, surprisingly, some old Lionel toy train cartons. It is one of the very few records we have of the reclusive artist.
(Michael S. Gant)
Futurama: The Beast With a Billion Backs; one disc; 20th Century Fox; $29.95
Slouchy robot Bender evolves from mechanical bad example to armed and dangerous rebel who dares to take on God (voiced by David Cross). "Yivo" (close enough to "JHVH" for blasphemy) is not God as most people imagine him; he's a pink multitentacled orb who desires personal knowledge of our spinal chords. In subplots in this made-for-DVD feature, Kim and Amy tie the knot on the oozing planet Amphibios 9, and hapless Fry finds romance with a polygamous new girlfriend who apparently "sleeps in a big pile, like hamsters." This consistently amusing sci-fi farrago on the nature of love in all its awful varieties co-stars the senescent King Kong, the talking heads of Richard Nixon and Stephen Hawking, the demon Pazuzu, hambot actor Calculon and studly, velour-wrapped Rear Brigadier Gen. Zap Brannigan. Bender's wicked summing up, a parody of that noble passage from 1 Corinthians cited everywhere from Odd Man Out to Kieslowski's Blue, is a resounding endorsement of human and robot selfishness. The Beast With a Billion Backs is guaranteed to be the only animated mashup of Star Trek V and Paradise Lost you'll see this year.
(Richard von Busack)
The Gits; one disc; Adrenaline Records/Liberation Entertainment; $19.95
Here is a three-word summary of how intense this documentary is: Joan Jett cries. We don't exactly see her cry, of course--c'mon, she's Joan Jett--but during her interview, she gets so choked up she has to stop for a moment, and seeing rock's tough girl overwhelmed by emotion and unable to speak somehow says it all. Mia Zapata was a tough girl, too, at least onstage and in her songs. As the interviews in this labor-of-love doc reveal, offstage the lead singer of the almost-famous punk band the Gits had a big heart and was known to be shy and reserved. The film's name is deceptive--it isn't really about the Gits, as a phenomenon or even as a band--as much as it's about Zapata and the people that she touched while she was alive. Besides being lumped in with the Seattle scene in the '90s, the Gits never got a chance to leave much of a mark. But by the time they were ready to release their second album, they had gotten a lot of attention for the band's fast-and-heavy punk sound and especially for Zapata's powerful voice and dark lyrics. Sadly, that's where Zapata's story becomes a true-crime story--she was raped and murdered in 1993--and director Kerri O'Kane lets the film follow down that path. The Gits becomes a mystery--who did it and why?--on the one hand, and on the other a chronicle of how her death tore the people around her apart. In a larger sense, it also tore apart the Northwest rock scene. O'Kane provides an unflinching look at the damage, as band members talk about hiring a P.I. to investigate their friends, and also explores how her friends and family tried to make something positive out of their anger, grief and fear. Anyone who doesn't know how this story turned out will be shocked and awed by the end, to be sure.
(Steve Palopoli)
Send a letter to the editor about this story.