August 8-15, 2007
home | metro santa cruz index | santa cruz county restaurants | review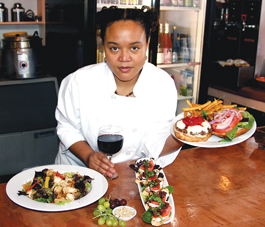 Photograph by Nikki Bowen
Cha Cha Chow: Chef Krista Pollock shows off the fare at the recently opened Cha Cha's.
Turn, Turn, Turn
Change comes to the Attic
By Denise Vivar
Yesterday I surrendered to the pressures of the technological revolution and upgraded to a new cell phone, my first in about four years. I didn't make this decision on my own; I received a letter from AT&T warning me that my phone was so old that the company was no longer going to provide service through my aging equipment, and that I was entitled to a free new telephone if only I would come in to claim it. To my co-workers--all of whom are far more technologically savvy than me--I am something of a freak, an aberration in these gadget-happy times. When questioned about my obvious disregard for remaining au courant, I have a number of defenses, but ultimately it distills down to a resistance to change. I have always considered myself flexible and open to metamorphosis, but perhaps there is an immutable force within me that needs some shaking up.
On this same day I paid a visit to the Attic on Pacific Avenue for a light dinner. I had already lunched there a couple of times in the past weeks and noted that the restaurant portion of the art and performance loft is newly owned and now called Cha Cha's. There were some new menu items, but a few of the tried and true features were kept on. I had my old stand-by, the BLT with Fakin' Bacon ($6.99), and life was good. On another occasion (on which I will elaborate), I tried some of the new fare, and still life carried on.
But on this evening I was informed that the restaurant would be closing early, due to a very light dinner crowd, and also that my old favorite, the buffalo burger ($9.99), just wasn't what it used to be. Oh, it's still served with fresh mozzarella and roasted red peppers, but evidently it has been scaled back in size from its ginormous predecessor to a mere shadow of its former self. This should be good news--after all, who needs half of a pound of buffalo? But just then I noticed the walls were bare. Evidently the mutation had stirred up a bit more than the soup, and I was more unnerved by the change of guard than I had realized.
My anxieties, however, were quickly assuaged as I learned that the Santa Cruz Institute of Contemporary Arts was in the middle of changing its monthly exhibit and that Cha Cha and her husband have been in the restaurant business for many years, having recently moved their establishment from Kresge College at UCSC. The meats are still hormone-free and the produce still organic, although the focus is not necessarily on local farms. The magnificent tea bar is still intact and serving all those wonderful selections of tea you can't get served just anywhere in town. With new hours, this was merely a transition that would take some time. I was appeased for the time being.
I have tried a number of the new dishes and found a few favorites, notably the salad offerings. In a single lunch sitting my friend Nesh and I shared the Asian chicken Salad ($8.99), the grilled salmon niçoise ($10.99) and the roasted beet and goat cheese salad ($8.99). Overall the salads are pretty good, well portioned and very reasonably priced. The greens were abundant and not overly dressed, the chicken in the Asian salad was generous in size, moist, tender and flavorful, and the beet salad was beautiful and redolent with bite-size golden beets and goat cheese.
Any tomato less than succulent is a disappointment, but smack dab in the middle of the season it seems just wrong, and this is where the salads, the bruschetta ($6.99) and goat cheese crostini ($8.99) fall short. Additionally, while the francese for the bruschetta is really nice, it didn't serve the bruschetta well, and the crostini is not, in fact, crostini but moderately thick and soft French loaf slices which also didn't have the right textural appeal.
There are a few offerings I have yet to try--the soups, pastas, some sandwiches and burgers, which I understand are a specialty here. They are offered in beef, the aforementioned buffalo, Boca Burger and Garden Burger form. They come with french fries that I find very good, medium in thickness, crispy but not too greasy and with good potato flavor.
This week's mantra: I shall embrace the revolution and openly greet transformation. And I anticipate sweet evolution at Cha Cha's. If I can make movies with my cell phone, all things are possible.
---
Cha Cha's at the Attic
Address: 931 Pacific Ave, Santa Cruz
Phone: 831.460.1800
Hours: Daily 11am-9pm.
Send a letter to the editor about this story.