August 8-15, 2007
home | metro santa cruz index | the arts | visual arts | preview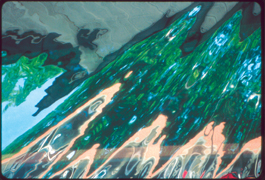 When in Doubt, Improvise: 'Jazz' by Cherie Correll joins 80 other pieces in a show of experimental works at the Santa Cruz Art League.
Paint Lab
An international experimental art show comes to Santa Cruz
By Steve Hahn
Several years ago Jean Lukens found herself at an art workshop in Florida without a paintbrush in sight. Sitting in the quiet studio of highly respected experimental watercolorist Maxine Masterfield, Lukens was forced to adapt. So she put aside her reliance on the tools she had been using for years and accustomed herself to the spray gun, the heat gun and anything else lying around Masterfield's shop.
It was then that the Watsonville-based artist fell deeply in love with the process of experimentation, and the impetus for bringing the International Society of Experimental Artists (ISEA) annual showcase to Santa Cruz was born.
"In the course of the workshop, Maxine mentioned they did not have a place for their next show," Lukens recalls. "I said, 'Well, how about Santa Cruz,' and she was very delighted, and all of a sudden I had all this information in my lap."
Back in Santa Cruz Lukens approached the Santa Cruz Art League, of which she was a member, about the idea and a date was set. The pieces being shipped in for the show, which runs Aug. 11 to Sept. 9, are part of a century-old artistic movement that has shattered art's traditional imitations of nature. These experimental works, whittled down to 80 from a pool of more than 300 entries, feature shapes, colors and found objects arranged in seemingly haphazard manner. Many are mixed-media, incorporating ink, watercolor, photography, charcoal and paint.
"You start with an idea and you truly follow what's in front of you," says Lukens. "That's the fun part of the creative process. You start at point A, and you think you're going to point B, but you could take C, D and E on the way there."
While this circuitous process results in many of the pieces seeming, at first glance, to be arranged randomly, each brush stroke or drip requires a great deal of artistic technique. Only someone with expertise in contrast, perspective, balance and shading could produce these works.
"Each time you put something down there is some thought as to what goes with it," says Lukens. "Either you're going to enhance it or make it step back so something else will come into the center of interest."
In addition to the paintings, the show will feature a selection of experimental sculptures and rearranged found objects, all pushing artistic boundaries.
"I think you'll find that this is very individual art," says Lukens. "It's not trying to tell a story so much or convey a political viewpoint. Each artist will be conveying their own individual art."
The 16th Annual ISEA showcase opens this Saturday, Aug. 11, with a reception 3-6pm, and runs until Sept. 9 at the Santa Cruz Art League, 526 Broadway, Santa Cruz. 831.426.5787.
Send a letter to the editor about this story.