August 8-15, 2007
home | metro santa cruz index | music & nightlife | mūz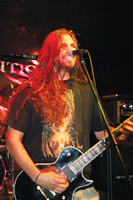 Ax Man: Aaron Rauber led Retribution on a merry thrash through the Lava Lounge Friday.
Mūz
Metal of Honor
By Garrett Wheeler
If there's one sect of rock & roll that can be deemed pure evil--and I mean that in the best possible way--it's gotta be heavy metal. In fact, here's a salute to the all-black-clad, Ozzfest-attending, Slayer-worshipping music hellions out there: It's you who are responsible for maintaining rock & roll's sacred traditions. Rebellion, sexuality, attitude and defiance--that's what rock music is, and continues to be, thanks to you.
At the forefront of the local metal scene is the Salinas power foursome Retribution. The band's show at Monterey's Lava Lounge Friday night was a display of the brazen fury and impeccable musicianship that characterizes top-shelf heavy metal. Led by guitarist and vocalist Aaron Rauber, Retribution thrashed through a set of blood-curdling hardcore metal, earning a spot in the Battle of the Bands final round later this month.
A handful of the band's followers were on hand to cheer on the rock stars to be, and the support did not go unnoticed. Rauber thanked the fans for making it to the show before blowing them away with a sound so thick you couldn't slice through it with a machete. A double bass drum attack from drummer Tim Burke provided a malevolent percussive march, while lead guitarist Josh Rauber and bassist Jeff Buck assembled melodies that were woven tight and crisp.
The stage show, like the music, was immaculate and equally hardcore. The band headbanged like it was 1989, at times syncing up their swinging hair to create, inadvertently or not, a visual effect that looked something like a furry kaleidoscope. And best of all, it was visible that the four kids from Salinas were actually having fun as they ripped through their ferociously heavy set. Sure, heavy metal is a serious thing, but that doesn't mean metalheads can't smile.
Also making sure they were having plenty of fun during their performance was the Santa Cruz classic jam-rock outfit MSTPL. The four-piece instrumental group got down and funky at Moe's Alley Thursday night, serving up a tasty blend of blues, funk and jazz that kept the few dozen audience members shaking it on the dance floor.
Even without a singer, the band managed to produce articulate melodies reminiscent of '60s-era rock, complete with extended intros and tripped-out interludes. Guitarist Steve Wiesner assumed the role as lead instrumentalist, letting loose on his electric guitar in true Hendrix fashion, wha-pedal and all.
"We never really practice that much," admitted Wiesner in between sets. "But when we do get together, we really just jam out." No practice? Fooled me. Together with bassist Terry Shields, drummer Paul Garcia (whose own band opened) and Michael Enos on keys, Wiesner and company put together an impressive unpracticed jam.
It's funny--at one time rock music in the vein of MSTPL's jam rock was considered heavy. Hendrix and Zeppelin were the ones pushing the rock & roll envelope. But the sound has evolved drastically since the Woodstock era. Now only the crunching, brain-rattling stuff that metal's made out of is deemed hardcore. And thanks to bands like Retribution, we've got a local scene that is rocking harder than ever. Without bands like them, we'd still all be listening to our parent's Cream records, thinking that was heavy.
Send a letter to the editor about this story.