August 8-15, 2007
home | metro santa cruz index | movies | current reviews | film review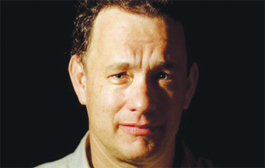 No-Frill Shill for Will: Tom Hanks and other actors explain how Shakespeare has influenced their careers in 'Why Shakespeare?'
Playwright in the Park
The Santa Cruz Film Fest gets its Shakespeare on
By Craig Gawlick
The guy who played Captain Kirk on Star Trek is not the person one might expect to be a big Shakespeare fan, but William Shatner, in fact, is an admirer and actor of Shakespeare. As he reveals in the documentary Why Shakespeare?, playing outdoors at Abbott Square this week as part of Scene on the Square, the man who gave us rousing spoken renditions of "Lucy in the Sky With Diamonds" and "Mr. Tambourine Man" is quite a fan of the Bard.
"Shakespeare to me is a little weird," he admits. "He's writing English we can barely understand. ... But what is universal, what you will recognize is the situation; it deals with death, and life and love and respect."
To illustrate Shakespeare's appeal and influence, the documentary takes the viewer on a tour of several actors, all taking turns performing the iconic "All the world's a stage" monologue from As You Like It, as well as other passages. Tom Hanks, half-lit in dramatic fashion, delivers verse from Hamlet. Michael York, of Austin Powers fame, recites Sonnet 18, comparing thee to a summer's day as only a Brit could.
It's obvious that for some, learning Shakespeare was pivotal to who they became as actors. Chiwetel Ejiofor, of Children of Men fame, goes a step further, describing how acting and Shakespeare helped him "improve in everything I did, exponentially." A light seemed to go off in his head, he says, and the language of Shakespeare made everything else clearer.
Director Lawrence Bridges intersperses these clips with interviews with students who belong to Los Angeles' Youth and Education Shakespeare, an organization that stages productions with youth as an alternative to gang activity. The organization's director say the students are constantly surprised to find enduring themes of jealousy, redemption and revenge in Shakespeare's work that resonate with their own lives. One teen, director Chris Young explains, "was very angry when she began, and it turns out she was about a week away from being initiated in a gang. By going through the program, she was able to see that what she was going through wasn't new, and that she had choices."
This 20-minute documentary will be shown Thursday in conjunction with Forbidden Planet, the classic 1956 sci-fi film (heavily influenced by Shakespeare's The Tempest) in which a reconnaissance mission to a faraway planet goes horribly wrong. A museum exhibition presented by the Museum of Art and History and Shakespeare Santa Cruz will also be on display.
It's all part of an effort to integrate the arts, says Jane Sullivan, director of the Santa Cruz Film Festival and the person putting the viewing together. "It's the triumvirate--we have film, art and stage represented at this event," she says.
Scene on the Square is Thursday, Aug. 9, at Abbott Square, Cooper and Front streets, Santa Cruz. $5/under 12 free. Museum of Art and History exhibition opens at 5pm; films start at 8:30pm.
Send a letter to the editor about this story.