08.27.08
home | metro santa cruz index | music & nightlife | band review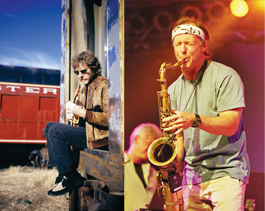 Scatamount : Improv meets Appalachia when Bill Evans teams up with mandolin player Sam Bush and a clutch of other talented bluegrass players.
Cold Fusion
Sax master Bill Evans and his new bluegrass pals make tracks for Kuumbwa.
By Curtis Cartier
Saxophonist Bill Evans has spent his life creating jazz fusion that's more than the sum of its parts. And after previously dipping into the realms of rock and hip-hop, he's now handpicked a who's-who squad of old-time bluegrass talent and is using the lessons he learned from trumpet legend Miles Davis to whip his crew into a new hybrid of country twang meets brassy jazz.
Evans, along with mandolin marvel Sam Bush, the "Jimmy Hendrix of violin" Christian Howes, master banjo picker Ryan Cavanaugh and a host of other gifted musicians, plans to trigger a fusion reaction at Kuumbwa on Sept. 3. "Jazz has always been about pushing boundaries," says Evans. "I'm just doing it in a fresh way, and I have a lot of fantastic musicians to help me out."
Born in Illinois in 1958 to a classically trained pianist father, Evans learned his ebonies from his ivories at an early age while at the same time becoming an adept clarinet blower. By the time he moved to New York City in 1979 he had picked up the saxophone and was already a formidable young musician. At 22 he joined with Miles Davis. For the next four years he would travel, record and play with and--most importantly--learn from the legend in ways Evans says have shaped his entire life and career. "I'd need a year to tell you all the ways that changed me," says Evans. "As a person, [Davis] was extremely dedicated and almost childlike in his innocence. He inspired everyone he met."
Davis left an indelible mark on music by challenging the status quo. By hiring talented musicians from a broad swath of musical backgrounds, Davis shook up the scene with a constantly evolving sound. Evans, like Davis, has combed the jazz, rock and bluegrass worlds for the most eclectic and effective mix of talent and emerged with a dream-team lineup that rivals any on the road today.
After his stint with Davis, Evans went on to join the Mahavishnu Orchestra in the '80s and Petite Blonde in the '90s. But it's been his solo career, which has spawned eight albums and two Grammy nominations for Soulgrass and Soul Insider, that has defined the sax master as a musician. "When I write songs, it's something I feel strongly in my head, then expand on," says Evans. "Sometimes it takes weeks, other times it's quick. I think the best songs are the ones that come quickly, though."
Appearing on several albums as well as his current tour, mandolinist Sam Bush is used to being the center of attention. As leader of the Sam Bush Band, Bush, along with a few other key musicians, is credited with the 1971 creation of newgrass, which blends rock into the hometown bluegrass sound. Still, stepping out of the spotlight was a welcome break for the artist as well as a chance to work with some of the industry's finest. "When I get time to come out with Bill, it's like I'm learning a whole new language," says Bush. "For me it's like I'm learning jazz and for Bill it's like he's learning bluegrass. In the end though, it just sounds incredible."
Evans' latest album, The Other Side of Something, is easily his most experimental to date. Taking the bluegrass-jazz fusion that he started with 2005's Soulgrass, Evans added an extra helping of country twang. From the opening track, "Easy Way Out," Evans establishes himself as not only a brilliant sax blower but a decent singer as well. Other songs like "Sweet Tea" expose the personalities of the musicians through solos, and "Walk Into the Light" shows off Evans' pop appeal with a catchy radio-friendly vibe. By the end of the record, Evans is revealed as an accomplished songwriter who lays solid groundwork but still allows his backup stars to shine.
Evans' Sept. 3 gig at Kuumbwa isn't his first, and as the epicenter for the Santa Cruz jazz scene, Kuumbwa Jazz Center plays host to some of the genre's top brass. The club's marketing director, Sandy Sloan, says Evans' brand of jazz-bluegrass is the kind of experimentation that jazz was meant for. "It's really hard to define Bill as a jazz artist," Sloan says. "I think any music that avoids labels is great. If you come with an open mind and open ears, you'll be in for an explosion of bluegrass fusion."
BILL EVANS' SOULGRASS WITH SPECIAL GUEST SAM BUSH is Wednesday, Sept. 3, at 7 and 9pm at Kuumbwa, 320-2 Cedar St., Santa Cruz. Tickets are $25 adv/$28 door; www.kuumbwajazz.org or 831.427.2227.
Send a letter to the editor about this story.