08.27.08
home | metro santa cruz index | features | santa cruz | feature story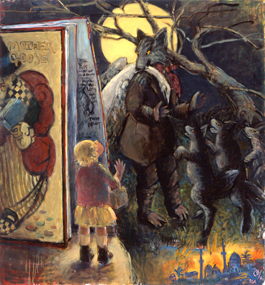 Elaine Badgley Arnoux, 'The Fox Went Out One Chilly Night' (2004), oil on canvas
MOTHER GRIMM : Elaine Badgley Arnoux's politically charged mythopoetic tableaux, on exhibit at the Museum of Art & History, set the tone for an imaginative arts season.
Goosed
A late-in-life experience with the homeless inspires Elaine Badgley Arnoux's dark fairy tale series
By Maureen Davidson
Once upon a time ..." the story begins, triggering a response imprinted in childhood: Sit back, settle in and prepare for a yarn that might have monsters, heroes or magical charms, might be scary or fantastical, but will probably turn out all right in the end. At the Museum of Art & History, the exhibition "Elaine Badgley Arnoux: Once Upon a Time" wields the fearsome mythic power of the fairy tale to relate a story whose happy ending is not quite as assured.
Like many fairy tales, this exhibition may be a bit too disturbing for children unless the family is prepared for a hearty discussion afterward. Elaine Badgley Arnoux weaves surface whimsy with nightmarish dark in these energetically drawn, brightly illustrative paintings and playful sculptures. Talking animals and cherubic children share space with ladies on horses and queens eating honey, all aglitter with brilliant color. All the better, my dear, to draw you into the pictures ... where the artist awaits in the recesses.
Once Upon a Time: September Mourning greets the visitor atop MAH's staircase. In the huge, lush-surfaced canvas, a background riot of vigorous marks is thinly overpainted in muted tones. A woman sits in an easy chair, enfolding a child in her lap, reading by the light of the large window behind them. The composition is so still, so precisely balanced, so perfectly harmonious that a viewer just might be lulled into that peaceful intellectual hum wherein considerations of the influence of tonalism or calculations of the "golden mean" reside. Then the painting's first incongruity pushes its way into consciousness: The Mother Goose book is upside down ... and the reader is blindfolded ... and in the frame of the window's sunny city view, an airplane speeds toward a gleaming skyscraper.
This 2003 painting was the first in the series begun as the artist struggled for a way to express her horror at the increasingly nightmarish world she found herself in--and to express not just horror, but hope.
At 82, Badgley Arnoux has learned to use art as a rudder through a life of turmoil. Her childhood in small-town Oklahoma was dominated by an increasingly abusive mentally ill father who pursued his runaway wife and child as they fled from him from town to town. Her talent emerged early and provided a continuum through the poverty of the Depression, a scholarship to Chouinard Art Institute, an early "security" marriage and other partnerships. Some eras of her life sound romantic and gay: her time as a successful artist in San Francisco while married to a prominent architect, interludes in Spain, a romantic elopement to a village on the Côte d'Azur with a young French fashion designer. But things were rarely as they seemed.
In a career that spans more than 60 years, her art evolved in theme and style: from literal portraits of the 1930s with which she earned youthful success to color-soaked watercolors of the late '50s in Southern California and hard-edged oils of the early '60s, when she lived in San Francisco and showed work in prominent galleries and museums. It was only in 1975, when she moved with her son to live with her young lover and his family in a small village in France, that her art became her vehicle of communication. Unskilled in French, ignored by the villagers and bullied by the family matriarch, she found a way into the world of Biot, France, by painting all its citizens. The result was "Gens de Biot," a collection of 65 knowing portraits that gained her access to people's homes and friendship and honed her French language skills. Following a celebratory exhibition, the family returned to San Francisco, where an exhibition of the Biot works eventually led to the artist's successful 1998 show and book, The People of San Francisco. Artistic success was followed by business triumphs: she established a prominent art school. Then a homeless shelter moved next door.
Badgley Arnoux became involved with the people who now pushed their shopping carts full of belongings up to the doors of her school. Increasingly incensed over issues of social injustice, in the 1990s she developed a body of work that grappled with poverty, mental illness and discrimination. For the inauguration of Mayor Frank Jordan in 1992, the artist and her neighbors wheeled shopping carts topped with painted canvases in a protest-procession to City Hall where an exhibition of Badgley Arnoux's portraits of the people of San Francisco hung in the galleries. This passion brought a new edge to her painting. The colors deepened. Dark, chaotically marked backgrounds contrasted with wide vibrant stripes representing, according to the artist, the balance of light and dark by which nature achieves harmony. Now, in the "Once Upon a Time" series, the artist has abandoned the compositional device of the stripes to grapple on each canvas with the forces of chaos.
See Saw Margery Daw is a vast 2004 oil painting whose central figures are stylish, tunic-clad modern women in white standing upon a tilted plank held aloft by children. The canvas is dense with content, vibrating with colorful underpainting, creating its own visual logic while applying several different painting styles to the incongruous elements of the scene. A scumbly, impressionistic forest provides a dark backdrop to the loose corporeality of the women. Flat Mother Goose characters float through the canvas in less saturated colors: The king counts out his money and the queen eats bread and honey while a rat pushing a shopping cart catches the golden drops.
The Pied Piper of Hamlin offers a fond portrait of the artist's husband of the last and happiest decade reading from the book of Mother Goose nursery rhymes. This account of a comfy, bespectacled, middle-aged man clashes in every way--color, style, composition--with the turgid background representing Nazi Germany leading the Jews to a death camp. The irony hidden in this 2006 oil painting is that the comfy bespectacled man was one of the first American soldiers to enter the Nazi camps in 1946 and encounter the atrocities within.
In eight small paintings, Badgley Arnoux again uses her art to try to process the unspeakable, in this case the American acts of torture at Abu Ghraib. As if to contain the acts safely within a proscribed space, each cartoonily drawn scene is bound within the geometry of a box; without, fantasy characters react.
MAH curator Susan Hillhouse exhibited Badgley Arnoux's work of the late 1990s in a 2000 exhibition at the Triton Museum of Art in Santa Clara. In the catalog of that exhibition, Hillhouse wrote that the artist "understands people, those filled with shadowy secrets as well as those who are healing-light forces. ... The art of Elaine Badgley/Arnoux is a visual promise that one day we will all learn to shout at the shadows with prodigious ease."
"Once Upon a Time" offers stories within stories--not the least of which is the tale of survival transformed into service and a turbulent life made meaningful.
ELAINE BADGLEY ARNOUX: ONCE UPON A TIME continues through Sept. 7 at the Museum of Art & History, 705 Front St., Santa Cruz; 831.429.1964.
Send a letter to the editor about this story.