08.27.08
home | metro santa cruz index | santa cruz county restaurants | review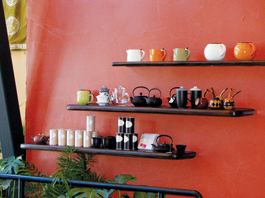 To A 'T' : Asana offers a fine selection of tea paraphernalia.
Dish
Asana Teas steeps in downtown Santa Cruz; Jim Denevan's Outstanding in the Field goes international.
By Amber Turpin
Brew and Me Asana Teas, the new teahouse on Lincoln Street in downtown Santa Cruz, is officially open, and initial reports are positive. After a lengthy renovation period, the space is light and airy and definitely lends itself to sessions of extended tea-sipping. And what shall they sip? Asana boasts a large selection of white, green, oolong, black, pu-erh and herbal teas from all over the world, available by the individual 16-ounce serving or four-cup community pot. Several teas are even from Chaikhana just down the street, another destination for the serious tea junkie. And as man and woman shall not live by tea alone, Asana offers a small menu of mostly vegetarian and vegan items, with tempting baked goods--mostly from Black China Bakery--and dangerously tasty ginger chocolate chip cookies. Hopefully Asana will stick it out in the previously ill-fated location to become another downtown refueling spot.
Grazing Time The Santa Cruz Cancer Benefit Group holds its fifth annual Gourmet Grazing on the Green in Aptos Village Park on Saturday, Sept.13. First off, someone deserves extra credit for the title, because that alone makes a day of sampling and sipping sound irresistible. It's all for a good cause, too--helping raise money for alternative cancer treatment research and local outreach organizations. In the 13 years since SCCBG's inception, donations have steadily increased, aided by the Spring Forward Against Cancer Gala held each April. Last year's Grazing on the Green participants included Café Cruz, Café Rio, Crow's Nest, Fresh Prep Kitchens, Green Valley Grill, Café La Vie, Sestri, Shadowbrook and The Whole Enchilada, as well as over a dozen local wineries. Expect similar decadence this year. Learn more at www.sccbg.org.
OUTSTANDING In 1999 Jim Denevan, then chef at Gabriella Café, began manifesting his farm-to-fork dining vision right here in Santa Cruz. The philosophy--partnering skilled chefs with local farmers together in an alfresco, at-the-source location for a tableful of lucky diners--has spread like wildfire across the nation, and now the world. As you read this, Outstanding in the Field is putting on a five-course feast on a 15-acre olive farm near Montepulciano, Italy. Upon the OITF team's return, they'll jump right into a project that aims to empower the next generation to embrace a more sustainable food system. In conjunction with Slow Food Nation's Youth Food Movement, on Labor Day OITF will host a 250-person eat-in at Dolores Park in San Francisco. A long, curving table will set the stage for students, farmers, artisans and activists to gather in a massive communal potluck. Bay Area chefs will lead groups around the city, picking up produce from farmers markets and then heading back to private and professional kitchens in which stellar dishes will be crafted (among the "dishes" is an entire pig). Dessert will be fresh-baked pie provided by Pie Ranch, a hands-on organization dedicated to connecting urban kids with food systems. Mission Pie in San Francisco is the program's business, a viable and delicious model of sustainable growth. The farm where all the ingredients come from (wheat for the crust, fruit for the filling, even bees for honey) is based in Pescadero. Visit www.slowfoodnation.org, www.outstandinginthefield.com or www.pieranch.org for more information.
Send a letter to the editor about this story.