08.27.08
home | metro santa cruz index | movies | current reviews | film review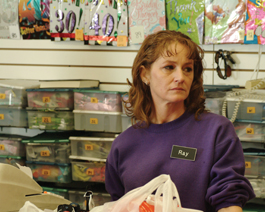 NICKLE AND DIMED : Melissa Leo plays a low-wage clerk and stressed-out mother who turns to crime in 'Frozen River.'
Bordertown
Melissa Leo's acute acting highlights a tale of northern smuggling.
By Richard von Busack
It is always a smart plan to give the public movies about snow in the summer and beaches in the winter--why try to sell them what they already have? Frozen River's ominous snowscapes are part of the film's appeal. The rest of that appeal: Melissa Leo's convincingly hard-boiled performance as Ray, a woman without many chances left. In a poor part of upstate New York, Ray's husband has vanished on a gambling binge, leaving his car parked at the Indian bingo casino on the Mohawk rez. Christmas is approaching like a storm front. Ray can barely keep herself and her two sons fed and sheltered on what she makes part-time at the Yankee Dollar store.
Her eldest, T.J. (Charlie McDermott), is considering some part-time work in one of his friend's criminal enterprises. Ray has to use all the pressure she can spare to keep her son on the right side of the law. A balloon payment is due soon on the double-wide Ray was hoping to purchase for her family for the holiday--and the repo men are circling, coming to get their television set.
In the middle of all of this trouble, Ray's husband's car is scavenged by Lila (Misty Upham), a Mohawk single mom whose daughter was forcibly taken away. Lila is picking up a few dollars in a dangerous trade, and she recruits Ray into it. "Snakeheads"--human smugglers--use the porous part of the border to bring in illegal immigrants to the United States. The frozen St. Lawrence River is their highway; Lila insists that it is Mohawk land on both sides. ICE and the other federal acronyms beg to differ, and they keep a New York state trooper watching on the edge of the reservation.
The Barbara Ehrenreich parts are bolstered by the authenticity of Leo's performance. Her craggy Ray is starred and stamped with bluing tattoos, and she is fierce without being too smart. She doesn't know what "Pakistan" is, for instance. And she carries a snub-nosed pistol that she knows how to use. The first hour, with the two women on their lonely rounds hauling immigrants, is gripping stuff. About the hour mark, Frozen River hatches a film-noir Christmas miracle, when it could have better matched Leo's authenticity by taking an irrevocable turn into the darkness.
While we get some interesting procedural material on how the Mohawks deal with lawbreakers, the actors on the tribal council are obvious nonprofessionals. They look right but tend not to bring any shadowing into their lines. You get the sense that they are being prompted. The cop (Michael O'Keefe) who figures out what's going on is deliberately, almost comically square; he says things like "Have an enjoyable holiday" when he makes a cautionary call at Ray's trailer. A really great movie would have helped us see his plight as well as his threat to Ray.
The film means us to see Ray's inner ice thawing, but the turnaround comes across as contrived. Frozen River is apparently the expansion of a short that director Courtney Hunt played around the film-festival circuit, and sometimes shorts get expanded to feature length through the making of compromises. Elements of forced sweetening show past the serious landscapes, as well as Leo's immaculately tough acting.
FROZEN RIVER (R; 97 min.), directed and written by Courtney Hunt, photographed by Reed Morano and starring Melissa Leo, Misty Upham and Michael O'Keefe, opens Friday at the Nickelodeon in Santa Cruz.
Send a letter to the editor about this story.