10.06.10
home | the papers | metro santa cruz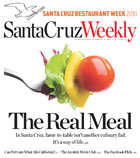 Gourmet Groundswell
With a bumper crop of boutique farms and a growing culinary talent pool, Santa Cruz is at the forefront of the farm-to-table movement.

California's Pot Legalization Initiative
This November, will Californians say 'Yes, we cannabis' or choose to nip Prop 19 in the bud?

Solitary Man
'The Social Network' is a fiendishly enjoyable retelling of the history of Facebook

MORE MOVIE REVIEWS

SANTA CRUZ COUNTY MOVIE TIMES

Music Calendar
Canadian party boys Tokyo Police Club, pan-Latin lovefest Grupo Fantasma and local heavy metal outfit Band of Orcs rawk Santa Cruz this week.

MORE MUSIC AND NIGHTLIFE

MUSIC AND CLUBS LISTINGS

The Fat-Tea Party
A culinary equivalent of the Tea Party is gaining traction

BOOK A RESTAURANT RESERVATION

FIND A RESTAURANT REVIEW

Deus ex Machinima
Modern day auteurs are making films with a joystick.

Letters to the Editor
October 6 - 13, 2010