11.04.09
home | metro santa cruz index | music & nightlife | band review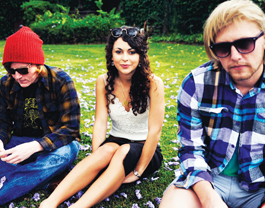 We Folky Few: Bassist Ryan Stively (left) with mandolin and banjo player Cambria Goodwin and guitarist Van Pierszalowski, Port O'Brien's core members.
Port in A Storm
Indie folk act Port O'Brien sets sail for the Brookdale Lodge.
By Adam Joseph
AT THE FESTIVAL in the Forest in Big Sur two years ago, the Oakland-based folk outfit Port O'Brien distributed a barrage of pots and pans to audience members to encourage rhythm participation in their highly contagious anthemic singalong, "I Woke Up Today."
Today, such rambunctiousness seems an eon away. The release of their new album, Threadbare, marks a bittersweet period for the group: in the early stages of recording their sophomore album, band member Cambria Goodwin's younger brother was killed in a car accident. But instead of taking a break from recording, Port O'Brien's core members, Goodwin and Van Pierszalowski, embraced the tragedy and used it to craft what may be their most alluring work yet. Traces of John Lennon's masterful Plastic Ono Band--also inspired by tragedy and turmoil--run through the album like healthy veins. We caught up with Pierszalowski en route to Texas after visiting New Orleans for the first time, a week before Port O'Brien's Nov. 7 show at the Brookdale Lodge with bassist Ryan Stively. Singer/songwriter Lauren Shera and Tyson Vogel of Two Gallants will open.
"Before [the death] we really didn't know what kind of record we wanted to make. We only had loose ideas for a few possible songs," Pierszalowski says. "It really put everything into perspective and gave the record a purpose that it didn't have before."
The bereavement theme is definitely a new one for Port O'Brien. Their first album consisted mainly of jangly love letters to salty dogs and the open sea- inspired by Pierszalowski's summers working on his dad's commercial salmon boat in Alaska, where Goodwin also spent her summers working as a baker. Pierszalowski describes Threadbare as a "real story with a narrative" that runs much deeper than the plucky All We Could Do Is Sing.
The album fittingly begins with the melancholic lullaby "High Without the Hope 3." The sleepy tune blends weepy acoustic guitar strums with Goodwin's weary voice, sweetly mourning her brother's death. The song is reprised in the album's bookend, "High Without the Hope 72." "It was a real inspiring time for [Goodwin]; she was on a roll and wrote most of the lyrics," Pierszalowski says.
But one of the best things about the record is it never becomes completely caught up in its sadness. Goodwin and Pierszalowski don't let it eat away at their souls. Port O'Brien's trademark happy-go-lucky folk feel persists. "My Will Is Good" is a punchy jaunt that begins with mellow humming and eventually erupts into fluttering percussion and intermittent rhythm guitar chops. Pierszalowski's lyrical delivery on "Sour Milk/Salt Water" recalls Michael Stipe's rapid-fire tongue-twister on R.E.M's "The End of the World as We Know It (and I Feel Fine)." The triumphant cacophony of instrumentals and vocals makes for the most upbeat tune on the album, even though the lyrics themselves aren't the peppiest. Pierszalowski says they're a bitter testament to the years he worked as a salmon fisherman and the folks who've never experienced that kind of grueling manual labor.
"We're completely proud of this album," Pierszalowski says. "After we heard the master recording for the first time, it felt so satisfying because it took so long and went through so many different phases. It was exhausting but rewarding."
PORT O'BRIEN plays Saturday, Nov. 7, at 8pm at the Brookdale Lodge, 11570 Hwy. 9, Brookdale. Tickets are $12.25 at http://folkyeahramble.blogspot.com/. (831.338.1300)
Send a letter to the editor about this story.