11.04.09
home | metro santa cruz index | the arts | books | review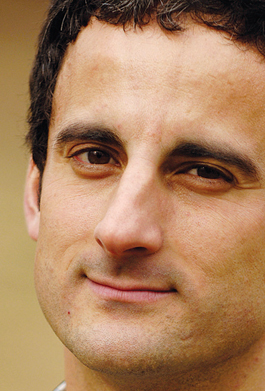 Photograph by Andy Nelson
Kurds And Whys: Ariel Sabar wasn't interested in his family's Iraqi Jewish history until he became a father.
Son of A Lost Tribe
On his way to Capitola Book Café for a reading from his new work of nonfiction, author Ariel Sabar talks about rediscovering his family's Iraqi Jewish past.
By Austin Sardella
IN THE LATE 1940s and early 1950s, following the establishment of the state of Israel and heightened hostility toward Jews inside Iraq, some 120,000 Kurdish Jews were airlifted out of the mountainous area known as Kurdistan and relocated to Israel.
Research for Ariel Sabar's award-winning work of nonfiction, My Father's Paradise: A Son's Search for His Family's Past, led him to a corner of Kurdish Iraq so remote that the few Jews still living there speak Aramaic, the language of Jesus. Austin Sardella interviewed Sabar in advance of his Nov. 5 reading at Capitola Book Café about rediscovering his ancestral homeland.
SANTA CRUZ WEEKLY: What could Americans learn from a place like Zakho? Can they relate?
ARIEL SABAR: I think one of the things they can learn is that the violent Iraq we see in the headlines today is not representative of the nation. Zakho is a microcosm of the place where people get along, with small groups of Jews getting along with Muslims for 3,000 years, and I think this is a hopeful story.
What was your biggest shock when visiting Kurdish Iraq?
How different it was from how I'd imagined it from my father's description. I imagined a sleepy backwater, like a fairy tale. But Zakho is now one of the safest borders into Iraq, and it's hurtling into the future with the Iraq reconstruction effort. I saw spanking new gas stations and hotels, and SUVs and BMWs with television screens built into the backs of the seats.
One thing that stayed the same was the warm reception. You hear about anti-Semitic Iraq, with Saddam, and then you get there and hear, "Why has it taken you so long to visit? Tell your brothers and sisters in Israel to come back!" They didn't share the anti-Semitism. They invited us in for tea. The Kurds are still a people who embrace other religions.
In parts of the book you refer to your father as 'Abba.' Were there other Aramaic words your father taught you as a child?
Very few. Baby words. "Bisho bisho" for bath, for one, which is a kind of onomatopoeia--you can hear the water splashing. He didn't see teaching his children the language as his mission. He had more practical views for us--who would we speak it with? His mission was to preserve the language for scholars.
How did your father react to the finished product?
He doesn't like being in the spotlight or even having people talk about him. He was wary of the idea at first. When he saw it, he was surprised. He had read the narrative of his life, seen the dots connected in a way he hadn't. He began to see what I was doing as the same thing he was: building a lifeboat to the old culture.
ARIEL SABAR reads from 'My Father's Paradise: A Son's Search For His Family's Past' on Thursday, Nov. 5, at 7:30pm at Capitola Book Café, 1475 Capitola Road, Capitola. 831.462.4415
Send a letter to the editor about this story.