11.04.09
home | metro santa cruz index | features | santa cruz | feature story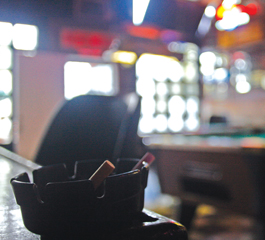 Photograph by Curtis Cartier
Tray Chic: The smoke-friendly establishments in town are, shall we say, down to earth.
The Smoker's Tour Of Santa Cruz
Finger-wagging authorities may have outlawed cigarettes, but you can still enjoy a smoke with your booze if you know where to go
By Austin Sardella
AS MORNING broke on Oct. 20, little was different about Pacific Avenue. Some defied the few patrolling police cruisers by smoking on the sly, concealing their sins in their pockets. They grinned at the victories, knowing that soon smoking tobacco downtown would be a distant memory. By midday the few who dared to violate the ban were huddled in back alleys. The tension between smokers and nonsmokers had escalated: the judging glares were more righteous than before, backed by the authority of law, and the defiant return stares of those who dared to smoke in public were still more rebellious.
Fortunately, Santa Cruz nightlife does offer a spark of relief in these postapocalyptic times for smokers. There are several secret hovels every black-lung should know if they are going to survive in this brave new world, but discretion being the better part of pallor, this cloak-and-dagger guide is based on hidden clues. Read carefully and be rewarded with a well deserved drink and smoke.
Yeah, Right!
The Smoker's Tour begins just a few blocks from downtown, not far from a place where books get decapitated. "Absolutely no smoking" reads the sign above the parlor, but this has clearly been nothing more than a joke for several decades. With its crimson walls and year-round Halloween decorations tucked in a ceiling corner, this is a relaxing place to chat and an important stop on any smoker's bar crawl. Check for performances by local blues acts; the intimate concerts are a blast.
When the clock tower chimes, the smoker will want to hurry in to check out this next stop, which is ranked by local experts as a quality dive. The jukebox, like the patrons, is caught between a few decades, but despite the melting pot of tastes there's always a warm atmosphere and a line for the lone pool table. The drinks are fairly priced, and they mix a mean White Russian.
The night tour continues by ambling back toward the main drag, and close to 10:10pm the tourist will find a radical stimulus in the next stop, better known for its musical performances. If you ask for an ashtray at the bar upstairs, you'll be promptly told no and given one. The pool hall is free to play Sunday through Tuesday nights, but if you want to play, bring your game; there will be competition for the tables and the regulars are very good.
Ifs, Ands and Butts
The next stop has the same problem with childhood nicknames that many of us grew up with, which probably caused some of us to become nasty smokers in the first place. We here at Smokers Tour won't pretend this place is something it's not--it's definitely a dive's dive--but it's worth stopping in for the strong, cheap drinks and laid-back atmosphere.
When you've come to the end of the road, close to one of the larger, ringed planets in our solar system, the tourist will find another home away from home for smokers. The nice thing about this spot is the heated back patio, giving the option of smoking outdoors in comfort. Shooting pool here on an afternoon feels like hanging out in a friend's garage.
"Judge not, lest ye be judged" is the attitude the next stop takes toward smoking as the tour departs the downtown area. One of the more intimate bars off the main strip, there's not much pretense about a theme here. The license plate reading "asshole alley" suffices, and the smoke-toting pool sharks seem to know what they're doing. Don't lose your money to them. A coffee pot brews beside bottles of Galliani Bacardi and Smirnoff, and even when you've already got a drink, there aren't many finer things in the world than a cigarette and coffee. To catch up on Desperate Housewives or other prime time drama over a stiff whiskey, drink here.
James Bond would appreciate the next stop, although the Santa Cruz Smoker's Tour may now stop dropping hints and name smoking parlor One-Double-Oh-Seven on Soquel as a place to legally have a cigarette indoors over a drink. Now here's a smoker's paradise: stacked packs of American Spirit and Camel Lights right next to the Wild Turkey. Sports fans especially have hit the jackpot, with flat screen viewing of basketball or any other important game playing at the time. Stocked with Tanqueray, Beefeater and Bombay, this is an excellent spot to shoot pool, throw darts or catch a Lakers free throw.
Send a letter to the editor about this story.