11.04.09
home | metro santa cruz index | news | santa cruz | news article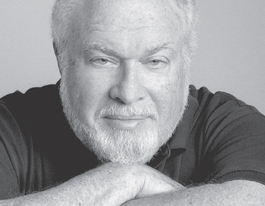 Photograph by Jana Marcus
A Man In Full: With his published poems and essays, frequent readings and radio and television programs, Morton Marcus anchored the Santa Cruz literary scene for four decades.
Literary Lion of Santa Cruz
Stephen Kessler pays tribute to poet Morton Marcus, 1936-2009.
By Stephen Kessler
MORTON MARCUS, whose outsize presence animated and at times dominated Santa Cruz County's literary culture for most of the last 40 years, died peacefully at home after a long illness early in the morning of Oct. 28. He was 73, and seemed both younger and older--younger because his attitude toward everything was one of boyish enthusiasm, and older because the amount of living he jammed into his years would have taken several lifetimes for anyone less charged with creative energy.
To fellow writers, Marcus was best known as a poet, but in a far more capacious sense of that word than simply someone who writes poetry. In his case being a poet meant being part rabbi, part shaman, part entrepreneur, part teacher, part movie critic and television personality, part radio host and interviewer, part political organizer, part journalist, raconteur, bon vivant and, oh yes, writer of lots of poems and books of poetry--verse poems, prose poems, lyrical poems, surrealistic fables, family narratives, nature poems, urban poems, short poems, long poems, skinny poems and fat poems. At times didactic or philosophical, at other times comic or fantastic, often stretching beyond any signature style or comfort zone, his writings defied easy categories and roamed wherever his imagination led.
Even long after his retirement from teaching literature, creative writing and film for three decades at Cabrillo College, Morton was an irrepressible teacher. "This is a guy," said his friend the poet and printer Gary Young, "who would lecture the birds in the park." Indeed, given the opportunity, which he frequently had at his various microphones in diverse venues and circumstances, Mort would unpack an impromptu discourse on just about any subject at hand, from the history of the novel to the Japanese tea ceremony. And in a more intimate setting, in private conversation, as Gary noted, "he was a spellbinding storyteller."
Appetite for Life
I first met Mort in 1968, soon after we'd both arrived in Santa Cruz. In our occasional dinners together over the years I was struck each time by his voracious intellectual appetite (not to mention his appetite for food): he was, as he said to me in a conversation last year, "absolutely intensely engaged in everything" and could draw on his vast reading and picaresque personal history--having been farmed out by his much-married mother to a series of boarding schools and fending for himself throughout his youth--to talk as well as eat you under the table.
A conversation with Mort would typically range from poetry and poets to sports and athletes (he'd been a boxer and a street fighter, a high school basketball star and later a coach), from Eastern philosophy to movie trivia, from international politics to his familial and personal odyssey starting in the shtetls of Eastern Europe and migrating through New York City to Northern California and eventually Santa Cruz, which he considered his only true home.
These lively dialogues were always genial but frequently heated and contentious, informed by his passionately held opinions on whatever topic. His longtime close friend, fellow poet and Cabrillo colleague Joe Stroud, told me, "The wonderful thing about Mort was that you could have huge disagreements about everything--poetry, politics--but the friendship was bottom-line solid. He didn't want agreement; he loved engagement."
But unlike most other blowhards, know-it-alls and egomaniacs--whom he could match huff for puff, if necessary--Morton was also an attentive listener, a sensitive reader and a generous champion of others' work if he found anything in it worth admiring. Being interviewed by him on The Poetry Show on KUSP radio, where I was his guest a number of times, was to discover in your own poems, by way of his strikingly insightful questions and observations, aspects of your writing of which you were previously unaware. I always enjoyed these on-air discussions, not least because with Mort as my interlocutor I was sure to learn something.
Of all his contributions to local culture, I'm personally most grateful for his organizing, in the early to middle 1970s, a series of weekly readings at downtown restaurants that virtually created a Santa Cruz literary community. Morton's organizational energies and skills with publicity brought together a vastly diverse assortment of writers to hear one another's work, and these well-attended gatherings generated friendships and collegial relations many of which continue to this day. For young writers looking for like-minded souls with whom to interact and compete and sometimes seduce, and for an audience to witness our performances, the Marcus touch as social director, carnival barker and ringmaster set a standard I have never seen surpassed.
As Joe Stroud said to me, choking back tears, "I think Mort is going to be someone we're going to miss more and more. Beyond the boombast [sic!] and the bullshit, he was an amazing man."
Literary Friendships
It was Jim and Jeanne Houston who first cajoled Mort and his family into moving to Santa Cruz. Jim Houston and Marcus had been graduate students together at Stanford in the early 1960s, and their friendship then evolved into a lifelong personal and literary alliance as they became twin towers of accomplishment in their respective disciplines, Jim in prose and Mort in poetry. Their illnesses and deaths within six months of each other this year are a devastating double blow to local culture. Both in their early 70s, both still working right up to the end (Mort completed his final book two days before he died), they represent the passing of an irreplaceable generation.
And yet, their example serves as a continuing inspiration to all the other writers they befriended here. And other artists too, like Mort's friend Futzie Nutzle, learned from and were inspired by his vision. "He had some kind of ability to point things out to us," Nutzle told me. "I think he pointed out the beauty ... but it took him a while because he was so tough."
That toughness, that scrappy street-fighter tenacity, surely accounts for the fact that it took the kidney cancer he was diagnosed with two years ago--a cancer that would have been swiftly fatal for most people--so long to finish him off. Morton simply did not give up, even when he knew the cause was lost.
I remember a conversation we had over sushi and sake one night in the 1990s, when he admitted to me that he felt he had not measured up to his original ambition to be a truly great and famous writer. As with most of us who begin with such lofty goals and dreams, those illusions had given way to a more realistic assessment of his achievement. But he realized that was no small thing, and that all the books he'd published, the magazines and anthologies in which his work had appeared, all the readings and lectures he'd given and classes he'd taught and articles he'd written and friendships he'd cultivated and events he'd organized added up to a lasting contribution to his community--both the local one and the larger immortal fellowship of literature with which he felt forever affiliated.
Morton Marcus left his mark on Santa Cruz, and on each of us who had the singular luck to know him. As Nutzle said, "It's hard to believe that somebody of his magnitude is somewhere else now."
A memorial service for Morton Marcus will be held Saturday, Nov. 7, 1-3pm at the Cabrillo Crocker Theater, Cabrillo College, 6500 Soquel Dr., Aptos. The Marcus family is donating Morton's poetry collection and literary papers to the Morton Marcus Poetry Archive, to be housed at McHenry Library, UCSC. In lieu of flowers, tax-deductible contributions to benefit the archive can be sent to: Library Development Office, Attn: Morton Marcus Poetry Archive, UC-Santa Cruz, 1156 High St., Santa Cruz.
Send a letter to the editor about this story.