November 8-15, 2006
home | metro santa cruz index | santa cruz county restaurants | review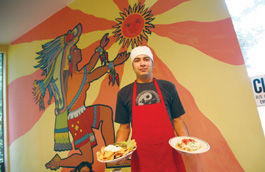 Photograph by Carlie Statsky
Tacos Moreno: Who says students don't have it way too good these days?
More Moreno
A visit with the beloved taqueria's younger sibling
By Selene Latigo
From the moment I officially graduated from UCSC, I barely looked back. On the rare occasions that I do venture up again for Shakespeare Santa Cruz or other random community events, the towering new developments and rearranged classrooms seem to spring up out of nowhere and leave me stunned at how much has changed since my time there. One thing I do miss, however, is taking in that breathtaking view of the bay every day, the reason I ultimately chose UCSC over the other schools. I might be enjoying that view a bit more now that I have a new reason to visit the campus. The second location of Tacos Moreno is open at Merrill College, a straight shot up Bay Street from my house.
I was very curious to learn what changes, if any, this new taqueria would present. Since a majority of locals know and love the original with a fierce loyalty, I wanted to see how the new one was catering to a student population. I chose a weeknight at the prime dinner hour of 7pm to conduct my study, meandering through darkened pathways until I discovered the bright restaurant like a beacon in the night.
For one, this space is much larger and more open, definitely more appropriate for lingering at one of the several tables. High ceilings with overhead fans circulate the familiar aromas, and the yellow walls adorned with bright tin trinkets create a light, clean atmosphere. The long counter has a coffee station with Santa Cruz Roasting Co. press pots, and the beverage coolers house a multitude of juices, sodas and energy drinks--everything except beer. There's even a minifridge just for Red Bull and I observed a group of students purchase several to go, without any food to soak up the caustic caffeine.
The wall-mounted menu appeared to feature the same beloved items, with the addition of nachos, a smart move to hook those late-night student cravings. Breakfast burritos are also offered, and for a small additional price, black beans or rice can be incorporated into the otherwise pinto-centric selections. A lesser variety of only the "safest" or most popular meats are described on the all-English menu, such as "beef" instead of "azada." It took us awhile to decide, finding ourselves propelled toward our old favorites but also wanting to sample some newer items. What resulted was an order of gigantic proportion and Dave, like usual, ending the meal with groans of mixed pleasure and discomfort.
We started with our standbys, and were pleased with their authenticity. The chips ($1.50) were thick, crunchy, salty and just a bit greasy, while the smoky, chile-flecked salsa was dark and spicy, both truly Tacos Moreno in every way. The chicken taco ($2.70) was double-wrapped in corn tortillas, briefly grilled, and stuffed with thin shredded cabbage, tomatoes, cilantro, perfect pinto beans and barbecue chicken. While the meat was in larger chunks and less sauced than usual, the taco was unmistakable. The Al Pastor burrito supreme ($4.99) had heft, wrapped tight and bursting with fat layers of barbecue pork, pintos, cabbage, salsa and sour cream. Again, this version seemed less saucy and did not result in greasy drips running down an arm, a plus or minus depending on your perspective on how a burrito should be. However, our corn quesadilla ($1.95), my absolute favorite Tacos Moreno item, seemed greasier and adopted the flavor of what previously occupied the grill.
Diverting a bit from the standards, we tried an order of regular veggie nachos ($3.90), substituting black beans for the pintos. A huge pile of chips was topped with jack and orange-colored cheddar cheeses, moist yet quite salty black beans, and a scattering of large pickled jalapeño slices. The microwave heating made the chips somewhat chewy the longer they cooled, so we increased the pace, wishing I had upgraded to the supreme category with sour cream and guacamole to cool off our burning tongues and cut the salty elements.
Overall, I left this new location feeling full, familiarly satiated by the Tacos Moreno flavors, and above all, envious of all you students who get to have this up there so close. I only wish I would have had a taqueria of such consistent quality during my years in attendance and hope everyone who does will welcome this Santa Cruz fixture with open arms.
---
Tacos Moreno
Address: 1156 High St. (at Merrill College, UCSC), Santa Cruz
Phone: 831.459.5078
Hours: 10:30am-9:30pm Mon-Fri; 11:30am-7pm Sat
Cuisine: Mexican
Price Range: $2-$6.
Send a letter to the editor about this story.