November 8-15, 2006
home | metro santa cruz index | the arts | books | author profile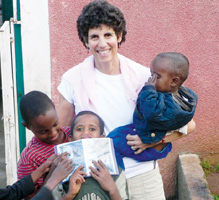 Emotional rescue: Just when she thought her book was finished, a twist in the tale brought Greene back to Ethiopia.
The Odyssey of Melissa Fay Greene
In documenting the struggles of an African pediatric AIDS activist, an author becomes part of her own story
By Rick Kleffel
Atlanta journalist Melissa Fay Greene did not intend to become a character in her own book, There Is No Me Without You: One Woman's Odyssey to Rescue Africa's Children (Bloomsbury; $25.95 cloth). Greene's nonfiction tale of Haregewoin Teffra, a suburban housewife in Addis Ababa who became the savior of thousands of AIDS orphans, was supposed to be a straightforward biography. But as Greene--whose past subjects have included civil rights, mining disasters,poetry and Southern history--became involved in the process of writing this book, she eventually found herself becoming part of the story. Metro Santa Cruz talked to Greene, who will give a reading this Thursday at the Capitola Book Café, about this unexpected twist in the life of an award-winning author.
METRO SANTA CRUZ: How did you find out about and then eventually find the heroine of your book, Haregewoin Teferra?
Melissa Fay Greene: I wanted to write about some of Africa's AIDS orphans without placing a great white aid-giver in the foreground. I heard of Mrs. Haregewoin through the network of adoption workers in Addis Ababa; I heard she was using an empty truck-trailer to help house children and that she was keeping files on each child. When I met her and saw right away that she was middle-class, educated and bilingual, I was appreciative of how she went against the West's stereotypes and clichés of African women (barefoot, squatting, illiterate ...). I had no idea at that time what a rocky life she'd had, and would have.
Since you and your family became involved in this story, and a part of your own story, how did this change the way in which you wrote the book?
I originally wrote the book in third-person. But I unwittingly affected and turned the story. My profile of Mrs. Haregewoin for Good Housekeeping resulted in tens of thousands of dollars in charity being sent to her; the gifts from GH readers enabled her to move out of her one poor house on the muddy compound (the setting for most of the book) into two fine houses, with a big used van, more staff, rental property. ... As bitterness and accusations rose against her, I saw they were in part a response to her windfall, of which I had been the cause. I hadn't meant to be part of this story; but I also didn't find it to be the sort of story you can write about and leave behind; so it became most honest to put myself in the scenes, as quietly as possible.
How might that change the way we as readers approach the book and leave it, should we wish to become involved in this story?
Against all common sense, I was crushed when Mrs. Haregewoin turned out not to be saintly. As controversy heated up around her, I was stunned, feeling I didn't know her at all. I turned cold towards her. We reconciled when she opened up to me the whole story, in all its gory details. My discovery that Mrs. Haregewoin was flawed, was not a saint, didn't obscure the fact that she has saved hundreds of children. I personally feel informed by that, and hope readers would, too. We can't all be Mothers Teresa, but we can still be involved, save lives. Heck, even Madonna found a small life to save.
How did the actions of your heroine affect the actual creation of the book?
When she phoned me, mid-December 2005, from prison, everything came to a halt. First I made sure all her children were secure and had food and medicine. Then I stormed around shouting, "I wrote this book already!" because my first book, Praying for Sheetrock, ends with the protagonist in prison. And I had to call my publisher, as the book was due two weeks hence, to say, "Well, yes, the book is going well, but things have taken a weird turn in Ethiopia." In the long run, once Haregewoin was released and took me into her confidence again, we grew closer and the book grew stronger as a result. But it was a rocky time, with many sleepless nights during which I asked myself, "Why don't you write fiction???"
How do you infuse the joy and details of life in your work to create its novel-like feel?
I try to write about the world as I experience it, which is to say there's never a circumstance when I fail to notice the quality of light, the ambience, the flora, the moods and seeming intentions of the people; or when I fail to consider the background, the history, the economy, the psychologies at work. So I throw it all in rather impressionistically, while paying close attention to language.
Melissa Fay Greene will appear Thursday, Nov. 9, at 7:30pm at the Capitola Book Café, 1475 41st Ave, Capitola; 831.362.4415.
Send a letter to the editor about this story.