12.24.08
home | metro santa cruz index | music & nightlife | band review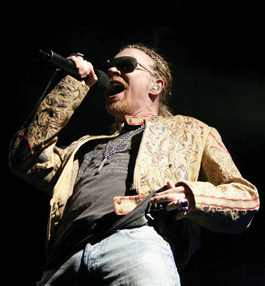 FLOP THE VOTE: GNR's long-awaited 'Chinese Democracy' answered the burning question of what Axl Rose has been doing all this time: too many drugs. Or else not enough.
Kiss It Goodbye
Music's wild ride in 2008
By Gabe Meline
It was a year in which we elected Barack Obama, the first president who not only actually likes hip-hop but can talk about it with a basic knowledge of the genre. The biggest-selling album was made by Lil' Wayne, a broken-glass-throated rapper from New Orleans who, when he wasn't tweaking his songs with Auto-Tune software, just plain didn't make much sense. Kanye West tried once again to declare himself the voice of a generation while releasing an album that didn't have his actual voice on it. People were instead reminded of an era when singers actually sang, like Howlin' Wolf and Etta James, with the Chess Records biopic Cadillac Records.
Campaign songs defined the year: Will.i.am's "Yes We Can," the McCain Girls' "It's Raining McCain," the crazy Laverne & Shirley theme song updated for Hillary Clinton and the Amigos de Obama's mariachi call to Texas voters, "Viva Obama." Meanwhile, Joe the Plumbersigned a record deal with Aaron Tippin, and Hank Williams Jr. blasphemed his best song into a moronic stump for John McCain. Bruce Springsteen, the Arcade Fire and just about every other good band in America campaigned for Obama.
Joe Satriani sued Coldplay, Prince nearly sued Radiohead, Axl Rose threatened to sue Dr. Pepper. Nas changed the name of his album, even though everyone knows what to call it. R. Kelly was acquitted of child-porn charges after six years of ongoing litigation. Guns 'N Roses ended their time in the limelight by releasing an album even lousier than anyone could have predicted; even worse, the band joined such low-lifes as Garth Brooks, the Eagles and AC/DC by offering it exclusively at big-box stores. The first-annual Record Store Day reminded people that the best way to buy music is also the most tried and true: at the local independent record store.
Vampire Weekend got dubbed the "whitest band in America" while marrying African music and Lil' Jon references to sweaters and scarves and damned good songs. Madlib flew down to Rio and made an album that actually sticks out from his 34 zillion other ongoing projects. M.I.A. watched her Clash-sampled "Paper Planes," a brilliant satire on immigrants and terrorism, weirdly soar to No. 4 on the Billboard Hot 100.
Mix tapes ruled so hard that they wound up on year-end best lists. Esau Mwamwaya and Radioclit deeply plundered the world music flirted with by indie bands, while Diplo and Santogold poked fun at Mark Ronson and made the Dead Kennedys sound dope. Girl Talk took the mash-up phenomenon to a wider audience than ever, making everything under the sun sound dope and reminding people that all music depends on the careful selection of ingredients.
Portishead bounced back from a too-long retirement by making a great album that's even better once it's halfway through; same with albums by Q-Tip and the Roots. Cassandra Wilson returned to standards for her lovely Loverly, Pharaoh Sanders returned to soaring heights on Kenny Garrett's Sketched of MD, Jolie Hollandreturned to form with The Living and the Dead. Erykah Badu didn't return to anything remotely resembling form, and instead delivered a beautifully schizophrenic dissertation on the modern world, New Amerykah: Part One (4th World War) .
The "in its entirety" trend continued, with Liz Phair performing Exile in Guyville and Built to Spill performing Perfect from Now On in shows around the country. The Boredoms continued their massive drum-circle tradition with 88 Boadrum in New York and L.A.
Brooklyn finger-tapper Marnie Stern set up a kissing booth at her shows to help pay off a parking ticket. My Morning Jacket's Jim James fell off the stage in Chicago, injuring himself so badly that the band canceled its European tour. Sly Stonedisappeared in the middle of his Santa Rosa show with all the money and had to be chased down, eventually cornered by his band in a midnight face-off at a gas station.
Jay-Z joined Madonna and U2 by signing a $150 million deal with Clear Channel spin-off corp Live Nation. After years of dating semi-secretly, Beyoncé and Jay-Z got married. Scarlett Johanssonmade an album of all Tom Waits songs to an underwhelmed public response. Tom Waits held the most memorable press conference on YouTube for his Glitter and Doom tour, one of the year's hottest tickets.
Music video directors cheered the change to YouTube's high-quailty widescreen, and friends gathered around laptops to wet their pants laughing while watching the Rock-afire Explosion, Gangsta Rapping Muppets and Guitar God parodies. Weezer cobbled gobs of Internet phenomena together for a blowout video-meme OD-fest. No one cared about MTV anymore. At all.
Music media continued to proliferate as vinyl LPs with mp3 download cards became the red-hot joint-packaging idea. Neil Young finally announced the release of his long-awaited box set—on Blu-Ray. Of Montreal released their album on CD, LP, tote bag, T-shirt and paper lantern while storming the country with the most bonkers stage show of the last 10 years.
In jazz, James Newton and Bennie Maupin unearthed some handwritten Eric Dolphy scores and debuted his unrecorded pieces at the Healdsburg Jazz Festival. Anat and Avishai Cohen ruled the Lower East Side. Herbie Hancock won the surprise Album of the Year Grammy for his tribute to Joni Mitchell. Vegan DIY noise punk duo No Age got a Grammy nomination for best packaging—the same category for the only Grammy Thelonious Monk ever won in his lifetime.
After charging service fees, after charging facility fees and convenience fees, after charging handling fees, after charging delivery fees and after actually charging a fee to print out your own tickets on your own printer at your own home, Ticketmaster, $750 million in debt, got dumped by its parent company. While its corpse rots, far more fan-friendly companies like InTicketing made strong headway toward restoring the ticket industry to sanity.
Ringo Starr warned us with peace and love that he hates autographs. Paul McCartney announced he's got a new Beatles song that no one's ever heard. Ian Curtis' gravestone got stolen in Manchester. George Michael got busted for reefer a bunch of times, and always had something very witty to say about it afterward.
We said goodbye to Earl Palmer, Yma Sumac, Dave McKenna, Buddy Miles, Danny Federici, Bo Diddley, Isaac Hayes, Jerry Wexler, Mel Graves, Norman Whitfield, Odetta, Jimmy Carl Black, Jimmy Giuffre, Eddy Arnold, Utah Phillips and Johnny Griffin.
And I think—I could be wrong—but I think people in 2008 finally stopped giving a damn about 'American Idol.' That's some change we can believe in, indeed.
Send a letter to the editor about this story.