12.24.08
home | metro santa cruz index | features | santa cruz | feature story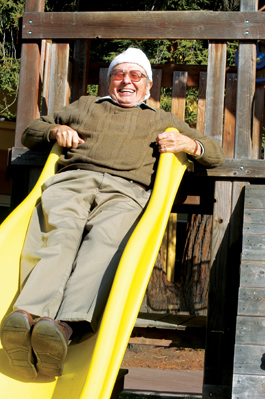 IT'S A WONDERFUL LIFE: Rowland Rebele takes a break at the River Street homeless shelter he helped fund.
Give and Let Live
Santa Cruz philanthropist Rowland Rebele on charity, accountability and giving during a downturn
Interview by Paul Wagner
Photographs by Curtis Cartier
Rowland Rebele has always seemed to know what he wanted. After rising from the role of student journalist to the position of editor at the Stanford Daily in 1951, he went on to purchase and sell three newspapers in the growing suburbs south of San Diego with business partner Lowell Blankfort. As the two purchased and improved other papers as well, Rebele discovered a significant obstacle to the objective reporting he desired: namely, public agencies' refusal to conduct their business publicly. When his Northern California publication, Paradise Post, asked for police officers' salaries and was refused, Rebele took the city to court and won. Thus began a campaign for government transparency.
In subsequent years Rebele sued Gov. Pete Wilson all the way up to the state Supreme Court to get the names of applicants for a vacant county supervisor's appointment. That one he lost, but the crusade continued. He went on to serve as president of the California Newspaper Publishers Association and from there headed the California First Amendment Coalition. He served as executive director and board member of the California Freedom of Information Committee, infusing it with $300,000 to fund its nonstop campaign to keep public information available to the public. He and his wife, Patricia, gave a $300,000 endowment to the California Weekly Newspaper Internship Program at Stanford, which funds the salaries of Stanford journalism students so they can intern out in the real world.
The press wasn't the only beneficiary of Rebele's drive and vision. The arts flourished as well. The couple used $250,000 to establish UCSC's Patricia and Rowland Rebele Chair in Art History to bring in visiting professors and provided two new rooms for Stanford's Cantor Arts Center. They've supported the Museum of Art and History of Santa Cruz County, the Cabrillo Music Festival, New Music Works, radio station KUSP, Santa Cruz Actors' Theatre and Tandy Beal–and, of course, the Homeless Services Shelter, which bears their names. Rebele has served on the shelter's board for 11 years.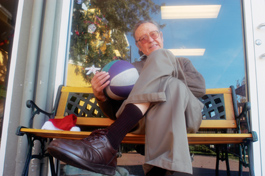 GAME PLAN: Rebele and wife,Patricia, anticipate 'giving it all away before we die.'
What is it, we wondered, that makes this unusual gentleman–born in San Francisco just a year after the crash of 1929 and a lifelong challenger of mediocrity, defender of the whole truth and frequent contributor to the presidential run of John McCain–keep on churning like a controlled burn? What is it like to still radiate this constant heat even in an economy drowning in buckets of cold water? What drives his giving, and what advice does he have for nonprofits seeking benefactors during a downturn?
We picked up the phone one day last week and Rebele, 78 years old and smart as a whip, told us what he thought.
METRO SANTA CRUZ: What is the organizing principle of your giving? What do you look most for in a cause or an application?
REBELE: The organizing principles are education, the arts and human services. We give small amounts to many agencies because so many are doing worthwhile work. But overall, our giving tends to go to those we have strong feelings about. We're also involved in a multimillion-dollar building project at St. John's church in Capitola and committed to [faith-based community action group, focusing on affordable housing] COPA. Our goal overall is to empower people to be all they can be.
The main thing we look for is a return on investment. Not a financial return, although that sometimes follows; we're looking for a human return–evidence that the giving works. We look into giving pretty thoroughly. After all, it's the follow-up, the efficacy, that matters. That's been a big problem in Africa.
How has that, and does that now, change during downturns–after 9/11, after the high-tech bust or now?
It really doesn't change. Since I've retired–I'm now 78, and my wife is a similar age–I've built a body of mature, profitable investments. We're blessed enough to own three businesses–a health club, motel and mini-storage facility–that have been doing pretty well. The returns have been reduced a bit, but overall, our principles are the same. And so are the rewards. Giving keeps you young.
Do downturns change your strategy for management?
Not really, no. I'm as busy now with giving as I was when managing newspapers. It's our life's work. It's good for the mind, good for the soul, we're blessed, so why not do it? Besides which, It's important to give now–more fun to give it away now, while we're alive.
What do recipients, most importantly nonprofits, need to know about approaching philanthropists during a downturn? Should they drop capital improvement plans and just focus on operational costs? Should they partner with other nonprofits to share expenses? Show fiscal discipline by cutting personnel?
All of the above–they should redouble their efforts to save money. That's always important, but especially now.
Do you have thoughts about the bigger picture, such as the balance between addressing the needs of our safety net through philanthropy and through government-sponsored programs?  
I believe service to our fellow human beings needs to be shared by government and private philanthropy. Take our homeless shelter: 35 percent of our funding comes from private sources, 65 percent from government. And that's the way it should be. Private giving provides the human touch; public sources the accountability and insistence on good outcomes.
In short, the responsibility has to be shared. We, realistically, all make up our government, all make up our police force and all make up our fire fighting force and our welfare force.
Is philanthropy, overall, working well now? What could make it work better?
It's working well in that it induces a consciousness–the joy of giving and the need for giving. We need to encourage others to get involved. It's a consciousness-raising we all need to do. A lot of people don't know this, but some 500 homeless folks get mail there, as well as get fed, housed and counseled. They also get lockers to put their stuff in. They can do laundry, take showers. It's a one-stop service to those who are homeless, but they have to leave in midmorning to work on their lives, then come back in late afternoon for the evening meal. ... And while people complain this produces a "magnet effect," we know from several studies that some 60 to 70 percent of our clients have lived in Santa Cruz for at least six years. So we're serving primarily whom we should–our own residents who are homeless.
What is the most discouraging moment you've had in your charitable career? And what is the most gratifying?
The most discouraging times are when I've received a "no" from people I know have the capacity to give, and seem willing to give, but won't. I'll take them on a tour of the Homeless Services Center, and they'll see all that's being done there, but they just walk away and I don't hear from them. That can be disappointing.
The most gratifying? Seeing the money well spent. Seeing it make a real difference.
For example, there's the Stanford journalism internship program Pat and I started 23 years ago which supports 20 to 30 students every year. ... To see those kids really blossom and grow and develop a consciousness about providing the public what it needs to know about government–through reporting and writing for the newspaper–is very gratifying.
If you could change anything about social relations in our nation, what would it be?
We have to make sure the estate tax does not go away. I just hope Congress lets this cut in that sunset and reestablishes the tax–maybe exempting two or three million dollars so people don't have to sell farms or businesses–but let the money recycle. That's very important.
How do you feel about the recent change in political direction nationwide?
We do need a national conversation about the importance of giving, and I think we're going to see that in the new administration.
What are you most looking forward to in your work for the future?
Giving it all away before we die.
Send a letter to the editor about this story.