12.24.08
home | metro santa cruz index | movies | current reviews | film review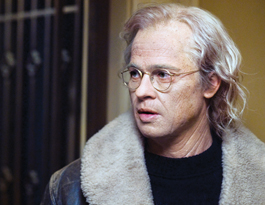 Photograph by Merrick Morton
Calling All Botox: Brad Pitt shows his age in 'The Curious Case of Benjamin Button.'
Old Love
Brad Pitt works backward in 'The Curious Case of Benjamin Button'
By Richard von Busack
It seems that The Curious Case of Benjamin Button was made because the technology was finally there to make it. F. Scott Fitzgerald's short story of the man who lived backward—born as an old man and regressing to babyhood in his dotage—has been in development for decades. Likely Fitzgerald's Pat Hobby was trying to crack the story in the 1940s.
Over the years, other writers stumbled on the same idea. The Twilight Zone–like tale has an ending that might have been summed up by the finale of The Incredible Shrinking Man. I thought of Hamlet's taunt to old Polonius: "Yourself, sir, should be old as I am, if like a crab you could go backward."
This vast and chilly film would have been timely around 1999, to pick up on end-of-the-century nostalgia. In his introduction to a collection of Fitzgerald's short stories, Malcolm Cowley notes, "Those who were lucky enough to be born ... in the years around 1895–1900 [felt] that the new century had been placed in their charge. ... Its teens were their teens, its world war was theirs to fight, and its restless twenties were their twenties."
Fitzgerald himself was just such a child. This Benjamin Button is born later, in New Orleans on the night that World War I ends. The holocaust of Katrina is the real end of his story, though, since the film is bracketed by the hospital deathbed of Daisy (as in "Buchanan"), played by Cate Blanchett. Daisy's estranged daughter, Caroline (Julie Ormond), hears her bizarre family history.
Benjamin is played in most of the movie by Brad Pitt, sometimes as a head cybergrafted onto dwarfish bodies. Abandoned as a freak by his parents, he was raised as a foundling in an old-folks home. Growing older—and yet, younger and stronger—Benjamin meets Daisy, a little girl who has dreams of being a dancer.
As a child, Benjamin looks a bit like Popeye, that cartoon character who was both burbling child and froggy-voiced old man. No surprise then that he heads off to sea with a colorful tugboat captain (Jared Harris), who is still skippering when World War II breaks out. They sail to Murmansk. (Crossing the Pacific in a tugboat is no minor nautical feat.) In the USSR, at a depopulated hotel, Benjamin meets a married English lady (Tilda Swinton). She feeds him caviar and vodka and makes a man out of him.
Later, in New York, after the war, Benjamin reconnects with Daisy, now a dancer in the "If I Loved You" ballet sequence of Broadway's Carousel. She's enjoying a flirty life with the men around her. Dejected, Benjamin leaves. Back in New Orleans, the old/young man comes into money; his birth father (Jason Flemyng) reconnects, passing on to him a button factory that apparently runs itself.
It might be clear by now that Benjamin Button is a man who doesn't really do anything, except during one naval battle. Some vocation would have shaped this life, but Benjamin drifts. His life takes place in the passive voice we use when we talk about what events did to us: "And then the war broke out, and I found myself in the Solomon Islands."
Pitt has his moments: rising out of the water, hair slicked back, he looks like the Jay Gatsby he never got to play. The gradual unveiling of Pitt's handsomeness is a neat trick; he grows more like himself as the years pass. The last stages use digital erasure that makes him look 20. Some of the women in the audience will feel a severe pang. They'll remember how young they were when they first saw Pitt take off his shirt in Thelma & Louise.
But in repose, Pitt starts to look like a vacant lot, and Blanchett's airy-fairy Daisy isn't as intense as she might be, or as this actress has been in the past.
The real poignancy of time's arrow flying backward isn't felt in this film, even in a Tom Tykwer–style passage about the long pedigree of a traffic accident: the mundane choices leading to the fateful occurrence. That sort of speculation is flabby writing. And while Benjamin Button isn't as screamingly retrograde as Button scriptwriter Joe Roth's Forrest Gump, it offers the same idea of a bohemian life as something one gets over in time. Benjamin and Daisy's life in New Orleans in the 1960s is so staid it might as well have been spent in Costa Mesa. 
In maturity, Benjamin is finally revealed as a holy man who can touch impure things like alcohol and prostitutes without becoming impure himself. He eventually travels to Benares, even. The passage of a century hasn't marked him physically or mentally.
This rich, tasteful and leaden movie uses the chill of Alzheimer's at the end. Many viewers have seen their all-wise parents turn to infants, and the movie works those feelings with a vengeance. Thus The Curious Case of Benjamin Button ought to have been a heart wringer. I sure didn't feel myself getting any younger watching it.
THE CURIOUS CASE OF BENJAMIN BUTTON  (PG-13; 159 min.), directed by David Fincher, written by Eric Roth and Robin Swicord, photographed by Claudio Miranda and starring Brad Pitt and Cate Blanchett, opens Thursday countywide.
Send a letter to the editor about this story.