December 28, 2005-January 3, 2006
home | metro santa cruz index | music & nightlife | band review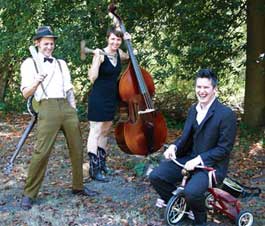 Ringing in '0666
Neither stress nor success can keep The Devil Makes Three off the stage
By Peter Koht
Breaking a band is a path fraught with peril. Even more frightening is what to do with success when it ultimately arrives. Earlier this year the musicians from The Devil Makes Three found themselves in the enviable position of being unencumbered with day jobs, critically lauded and having too many gigs to play. They'd "made it," but it didn't feel like it.
"The only time that we were getting along was up onstage," says Cooper McBean, the band's guitarist and singer, who will soon be ringing in the new year onstage at the Catalyst. "The business end was overshadowing the fun of it. It became hard to separate work from our real lives. Every time that we would hang out it became a business meeting."
On the road for much of the last two years, the DM3 was literally working itself to death. There was no time to write songs, no time to flesh them out and no time for the band members to function as both friends and artistic collaborators. Things came to a head at the end of last summer.
"About six months ago we actually broke up for a while—but we pretty much immediately went back into it," McBean says. "We realized that we shouldn't quit, but we also knew that we couldn't be so gung-ho about it. We had to go back to playing for fun instead of playing for money or exposure."
This realization helped the three members of the band to reconnect with each other and led to an artistic renaissance. After all, they finally had time to sit down and write some new tunes.
Copping to feeling "lost" in the pressure of a continuously working band, McBean has used his time off the road to learn the five-string banjo and perfect his clawhammer picking in addition to penning new material. "It's nice to land again," he says.
Lucia Turino and Pete Bernhard, the other two thirds of the DM3, have made the choice to move up to Sacramento, where Turino has started her studies to become a veterinarian and Bernhard is mixing his first solo CD. But their departure from town doesn't indicate an end to the three's artistic collaboration.
While writing has always been a solitary pursuit for both McBean and Bernhard, the two musicians have used each other as a sounding board. Now that their rehearsal time is inhibited by a three-hour commute, this collaboration, by necessity, has gotten a lot more efficient. "Playing as much as we have has made us pretty tight," McBean says. "The friendship is stronger than it has been in a while."
With a live record slated for tracking in March at the Kuumbwa, and another studio record to be recorded in summer, the band shows little sign of giving up on its plans to keep making whiskey-fueled, punk-tinged country music. Now a little more experienced in the ways of the music industry, the band has decided that the best way to keep moving forward is to pick its battles more carefully. After all, McBean says, "You can't learn the burnout lesson until you do it."
McBean has a day job again, but rather than be bitter about it, he's pretty upbeat about the choice to scale back on the band. Like the lyrics of some forgotten country anthem, McBean says he realized that at a certain point, he had to "quit the rock star life and get a real job."
"I felt it was wrong," he continues. "I was relying on the band to make money to make the rent and we ended up with all these shows that we didn't want to play. It was a real fucking bummer. Now that I'm back at work, we can play the kind of shows that we want to play."
While claiming that his favorite environment to make music in is an overcrowded basement or living room, McBean is more than excited to climb up on the main stage of the Catalyst this New Year's Eve. After all the troubles of the last year, it will be a moment of triumph over adversity and a chance for the band to prove that their new philosophy has rejuvenated their music.
The Devil Makes Three play Saturday. Dec. 31, at 9pm at the Catalyst, 1011 Pacific Ave., Santa Cruz. The Chop Tops open. Tickets $15/adv, $20/door. (www.catalystclub.com)
Send a letter to the editor about this story.