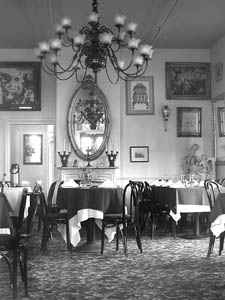 Photograph by Stephen Laufer

The Bayview From Here: Ristorante Barolo is the stylish newest addition.

New Arrival From The Old World

With Ristorante Barolo, the venerable Bayview Hotel has a new Old World restaurant packed with Italian accents

By Christina Waters

Walking into the warmth of the Bayview foyer--especially on a wintry evening--sweeps visitors back to another era. The high ceilings, ornate moldings and graceful lines of this beautiful piece of 19th-century architecture provide glowing reminders of this county's history. Encircled by a broad veranda and filled with soft carpeting and intricate chandeliers, the Victorian bed and breakfast has been many things in its colorful past, including both a railroad depot and a stagecoach stop.

Currently it is home to an unpretentious new Italian restaurant--Ristorante Barolo--filling the lovely dining rooms with rich, spicy fragrances. The visual details of Barolo's surroundings are worth the visit alone. A gleaming pianoforte from the last century faces the entrance to the reception area. Delicious curios, such as a working Victrola, sailing ship memorabilia and a gallery of compelling photos from bygone days line the spacious bar and lounge area. Barolo's managers know enough to enhance the already tangible aura of the 19th century that this lovely old hotel exudes.

Joining us for dinner, Barbara had already fallen under the Victorian's spell by the time we were greeted by the first of many vivacious Barolo attendants. We came armed with red wine, having already been informed that the wine license was not yet in place when we made our reservations. I was thankful for the advance warning and brought a bottle of excellent Ahlgren Syrah 1998 (from Shoppers, of course). The syrah was opened by the manager the instant we entered the candlelit dining room and allowed to breathe--momentarily--in large goblets.

Destined to be an Aptos neighborhood headquarters, Barolo offers a sturdy menu of Italian classics, from caprese to scalloppine, with more than a few pastas in between. Famished for full-bodied Italian fare, we agreed to start with shared platters of the melanzane antipasto ($8.50) and a special seafood ravioli with marinara ($19). We helped ourselves to lovely bread dipped into olive oil and enjoyed the robust wine until our appetizers arrived.

Not at all what we expected, the appetizer of sliced eggplant, rolled and stuffed with prosciutto and cheese and swimming in a salty brown gravy, proved a puzzling disappointment. The attractive ravioli, filled with a mild blend of prawns and white fish, were nicely al dente. A classic tomato-intensive marinara sauce bathed each bite, and the three of us inhaled this hearty opener.

Our entrees were generous and arrived for the most part hot from the kitchen. My beautifully braised pork chop was smothered with mushrooms in a wonderful porcini sauce studded with garlic, carrots and onions ($17.50). But a side of mashed potatoes was tepid. Ditto for the potatoes accompanying Barbara's overcooked stuffed sole ($16.50), and Jack's terrific seafood special of roasted halibut done puttanesca-style with olives, capers and tomatoes ($20). So satisfying were the thick fresh halibut steaks and the juicy pork chop, heightened by the mysterious earthiness of porcini, that we had to figure the lackluster sole was simply a kitchen oversight. For dessert, we sampled a house-made tiramisu ($6.50)--served in a bowl, creamy as a pudding--and one of those wicked little frozen lemons filled with lemon sorbet we love so much ($5). Both desserts hit the spot, but especially the intensely lemony frozen lemon--a bit of edible poetry that perfectly closes a meal of big Mediterranean flavors. We wish Ristorante Barolo and its beautiful Bayview home a prosperous New Year.
---
Ristorante Barolo
Address: 8041 Soquel Drive, Aptos, in the Bayview Hotel
Phone: 831.688.8654
Hours: Dinner nightly 5-10pm
Ambience: *** Vibrant Victoriana with cozy California charm
Service: **1/2 Ultimate hospitality--sensitive, swift and warm
Cuisine: *1/2 More consistency and fine-tuning of recipes will allow the kitchen to match the stellar surroundings.
Overall: The latest dining resident of this vintage Victorian adds warmth to the Aptos Village neighborhood.
---
[ Santa Cruz | Metroactive Central | Archives ]