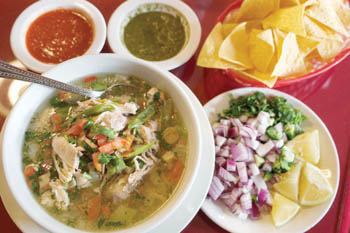 Photograph by Stephen Laufer

Caldo de Pollo: Also known as chicken soup for the soul.

Secrets of the South

Handed-down recipes and spices from the old country are the flavorful ingredients at La Flor de Oaxaca

By Anina Marcus

The Crossroads shopping center at the mouth of Carmel Valley is not a known habitat for ethnic restaurants, so to learn of a new establishment there was a pleasant surprise. Coincidentally, on two separate occasions in one week, friends of mine both gave it the thumbs up, making me even more eager to give it a try.

The moment I walked into La Flor de Oaxaca, I was immediately acknowledged by the waiter, who gestured for me to sit wherever I liked. La Flor turned out to be a modest place with a festive note brightening every corner--from the sharp red tablecloths against the pumpkin-covered walls to the piñatas dangling next to sombreros and Diego Rivera reproductions to the richly colored woven rugs serving as wall hangings.

The waiter, looking genuinely pleased to see me, brought me the menu and set down a basket of chips and two different salsas: green and red. The red sauce made of pure chile de arbol is fiercely spicy and has a vicious bite, so beware and proceed with caution! The green--made of puréed cilantro, red and green tomatoes and lemon--was simple, delicate and mild. The homemade chips were fried in 100 percent vegetable oil, "absolutely no lard," says chef Conrad Geronimo, "in any of the dishes you'll taste here."

The menu listed caldos (soups), tostadas, seafood cocktails, appetizers and house specialties. Designated as appetizers are memlitas, chalupas and fritangas--each containing different fillings enclosed by either a cornmeal pattie or a corn tortilla. Among the more exotic house specialties are moles (a smooth, cooked blend of onions, garlic, several varieties of chiles, ground pumpkin or sesame seeds and a small amount of Mexican chocolate), a chicken with a pesto cream and a Tilapia fish served whole with garlic butter sauce. The burritos are all filled with rice, pinto beans, salsa, sour cream and cheese with your pick of tongue (I love this tender and wonderful delicacy) chorizo or adovada: pork in red pepper vinaigrette.

I decided on the sopa de albondigas (meatball soup). It came in a very large bowl, enough to share with one or two others. The broth was a mixture of tomato, onion, garlic, herbs and meatballs the size of quarters bobbing at the top. String beans cut julienne-style, mushrooms thinly sliced, broccoli and tomatoes were plentiful in every spoonful. The meatballs were done perfectly--light and tender, tasting of lots of garlic, lemon and cilantro. Corn tortillas came with the soup (the chef tells me they are not made fresh there). I saved room for coffee and the caramel flan, which had a smooth, creamy texture, not too sweet, bathing in a honey caramel syrup. The coffee was fresh and strong.

I was lucky enough to catch the chef's attention as he was winding down the lunch set.

"What would be your recommendation for a first-timer to your Oaxacan cuisine?" I asked.

"Moles," he answered without a moment' s thought. "There are spices in it that I have to bring back twice a year from Oaxaca because there are absolutely no substitutes for them around here."

He sat down, popped the cap open from a tall bottle of orange soda and took a big gulp.

"We learned to make these dishes from aunties and grandmothers in villages sometimes eight or nine hours by bus from the nearest town," he told me later. "And they got it from aunties and grandmothers before them---going back long time--muchos años. And nothing written down--how you say--only por la boca, mouth to mouth," he grinned.

Frankly, I can't wait to come back and try chef Geronimo's Mole Poblano and Mole Oaxaqueno, specialties of the house. And who knows, maybe I'll be able to discover one or two of the "secrets" originating in the land of chiles, limes, cilantro and tomatillos that provide the piquant heart of La Flor de Oaxaca.
---
La Flor de Oaxaca
Address: 145 Crossroads Blvd., Carmel
Phone: 831.625.3940
Hours: Daily 11:30am-8:30pm
Price: $5.95-$18.95
---
[ Santa Cruz | Metroactive Central | Archives ]