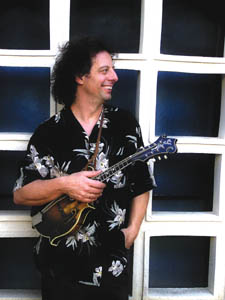 Will the Circle Be Unbroken: Mandolin king Mike Marshall looks toward a new generation.

To Every Season

Two generations of mandolin virtuosos come together for Arts & Lectures' next concert

By Peter Koht

'This is a real aural tradition," says mandolin virtuoso Mike Marshall. "There's no formal pedagogy. You learn from the previous generation and if you do your job, you'll take it to the next place."

Marshall started out on his own path toward mastery of the mandolin at the tender age of 19 by knocking on the door of longtime Jerry Garcia collaborator and acoustic music guru David Grisman--who honed his craft from lessons with bluegrass legend Bill Monroe. The cycle continued in 2000 with Marshall taking another 19-year-old, Chris Thile, under his wing.

Now 24, Thile is part of a new school of mandolin players whose artistic visions are unconcerned with such limitations as genres or convention. His fiery, sweeping lines and flawless virtuosity first found an audience with his trio, Nickel Creek, and he made a firm fan in Marshall--whose own prodigious skills are the envy of every soul who's picked up a mando in the last quarter-century.

Marshall first fell under the spell of Thile's playing after jamming with him on the bluegrass festival circuit. In the acoustic music world, Marshall explains, "if you are a mandolin player, you tend to know mandolin players--especially the good ones."

Within a few jam sessions, Marshall realized that "I'd waited many years to hear someone like Chris show up. He's really an extraordinary talent. He has a natural ability combined with an intense work ethic and smarts. Someone like Chris only shows up every 25 or 50 years."

Appropriately enough, these very words were applied to Marshall as he started making waves in the Bay Area in the late '70s. After hooking up with Grisman (the two administer a summer mandolin camp at UCSC and still perform together regularly), Marshall started to play out with some of the pre-eminent talents of his generation including Mark O'Connor, Béla Fleck and Joshua Bell. Throughout the years, he's gained the approval of critics and fans alike.

"I just assumed that someone else would show up in a year or two and take it to the next level," Marshall says, "but it has actually been a really slow process. I got my first gray hairs in the same year as I started playing with Chris."

Marshall doesn't fear the other end of the generation gap. If anything, he's looking forward to chuckling at Thile going through the change from apprentice to mentor. According to Marshall the process is much quicker now, as Tithe's popularity has "already spawned a new generation of 12-year-olds learning all his stuff. He'll get his day."

Until then Marshall is busy putting Thile through his own version of finishing school--both by working out new arrangements and by turning the younger player onto Bach's solo violin works. "They're three sonatas and three partitas and each has three to six movements," Marshall explains. "I'd always felt that it could work on mandolin, but no one has played the whole thing yet. Chris is probably the first one that could come in and record the entire project."

But while Bach will figure into the upcoming tour (including a stop at the UCSC Music Center Recital Hall as part of the Arts & Lectures Series), Marshall's and Thile's set list shows little respect for the conventions of classical concert programming. It's not surprising given that the two musicians' schedules are so busy that they are only able to get together a few times a year. In fact, the duo does lots of its writing via the tape recorder.

"It's a combined process of recording music and then arranging it, and coming out with a product of two busy guys who don't have a lot of time and live in separate parts of the country. We're also spread out stylistically, from playing really traditional music to bebop and classical. We've got about 30 tunes that are worked out now--but it's been five years in the making."

Like his relationship with Thile, for Marshall, "music has always been about studying." His list of current projects reads like a course catalog in ethnomusicology--from duets with bassist Edgar Meyer to a choro band with Brazilian master Hamilton de Holanda.

Marshall's long years of playing have given him an appreciation of the powers of music that borders on religious. For this master and mentor, "Music opens up relationships and takes you around the world discovering cultures, food and history. It's so much more than just the notes on the page."
---
Mike Marshall and Chris Thile perform Saturday, Jan. 7, at 8pm at the UCSC Music Center Recital Hall; tickets are $28-$40. (831.459.2159; http://artslectures.ucsc.edu)
---
[ Santa Cruz | Metroactive Central | Archives ]