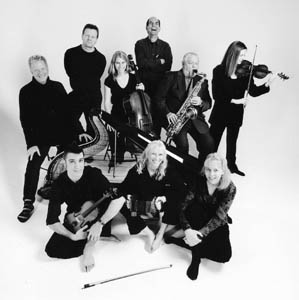 The Power of New: The NMW Ensemble brings the noise.

Looking Back on the Future

New Music Works hosts debut CD release event

By Scott MacClelland

If you're into thrills and chills, mark your calendar for Friday the 13th, when the New Music Works hosts its 15th annual Night of the Living Composers--plus, at long last, its new double CD with the same title. If the program inspires chills, then all the celebrity autographs guarantee the thrills--or is it vice versa?

Yes, the stars of NMW's new CD release will be ready, quills in hand, to personalize your own copy, following their live performances at UCSC's Recital Hall. The music includes George Crumb's miniconcerto Quest and Paul Nauert's Subtext with guitarist David Tanenbaum, Bernard Rands' Pulitzer-winning Ballad 2 with soprano Colleen Donovan, the premiere of Philip Collins' Pleasant Dreaming with pianist Michael McGushin, and the premiere of Hall of Echoes by this year's Sound Horizons winner John Joyner. Never heard of them? That's why they call it new music. (Since 1988, NMW has presented 145 performance projects, featuring over 672 pieces by 329 composers, including 326 world premieres.)

Tanenbaum's previous performance of the Nauert composition is part of the CD, as are the NMW commission from New Zealander Jack Body, Tribute to the Blues, heard last year at the UCSC Arboretum; Collins' own homage to disappearing frog species, Requies Ranarum; Lou Harrison's now-classic Concerto in Slendro, featuring violinist Cynthia Baehr and percussionist William Winant; and Alan Strange's King of Handcuffs, starring tenor Brian Staufenbiel.

One of the frustrations new music followers have complained about is not being able to hear unfamiliar pieces a second time. Thanks to the new NMW CD, that's all changing, affording aficionados a refresher course. While the Harrison piece has a long history, including recordings, the CD is loaded with NMW commissions and premieres. If you heard something from a previous season that made you uneasy or suspicious, now you can confirm, reject or revise your original impressions. (Note: to get the full spatial effect of Henry Brant's Glossary, designed to exploit the recital hall's acoustics, which are splendidly captured in Larry Blood's recording, listen through headphones.)

The concert program itself is something of a retrospective, the Collins and Joyner premieres notwithstanding. Charles Boones' Raspberries and Shunt and the Rands piece date from the 1970s; the Crumb and Nauert were composed during the '90s. Collins will conduct the NMW ensemble of some nine instrumentalists, many of whom are regulars in the band.

Philip Collins and the NMW have performed two extraordinary functions: First, to encourage today's composers, and, second, to revive late-20th-century works of merit that have otherwise lingered unconscionably out of sight. The NMW is about the active, engaged, enquiring mind. That and a bit of time are the real price of admission; the cost of a ticket is just to help cover expenses.
---
Night of the Living Composers. Concert and CD-release party takes place Friday, Jan. 13, at 8pm at UCSC Music Center Recital Hall; $18/general, $15/seniors, $12/students. (831.459.2159; www.newmusicworks.org)
---
[ Santa Cruz | Metroactive Central | Archives ]