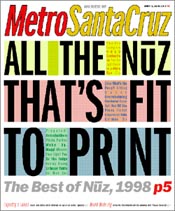 For the Week of
January 7-13, 1999
Cover: All the Nuz
That's Fit to Print
The best of Metro Santa Cruz Nuz, 1998.



World Wide Pig: KPIG hits the Internet and the airwaves with Please Stand By.
Notes From The Underground: Santa Cruz's 'Nightmare' is the answer to our rockabilly dream.



Just Chicken: Maya Angelou's directing debut, Down in the Delta, is nothing to crow about.



One-Act Wonder: Actors' Theatre welcomes the return of its most popular festival, Eight Tens @ 8.



Tapestry's Talent: Smart and stylish bistro offerings on tap at Los Gatos' Tapestry.