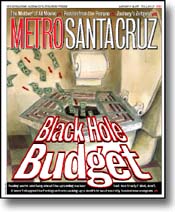 For the Week of
January 9-15
Cover: Black Hole Budget
Feeling warm and fuzzy about the upcoming nuclear test ban treaty? Well, don't. It hasn't stopped the Pentagon from cooking up a devil's brew of secretly funded new weapons.



It Takes Two: On the flashing heels of the screen debut of 'Evita,' passionate Argentine tango lessons are heating up Palookaville's polished dance floor.
Double Cross: An ex-priest must learn to bear both leaving the Catholic church and caring for his young daughter's unusual disability.



Resorting to Dinner: An evening at Sanderlings produces a memorable sunset in spacious surroundings and a few moments of culinary interest.



Eternal Maternal: Albert Brooks can't go home again to Debbie Reynolds in 'Mother.'



Notes From the Underground: Campus hillbillies may hook up with SC Sound to kick down with live local stuff for the kidz.