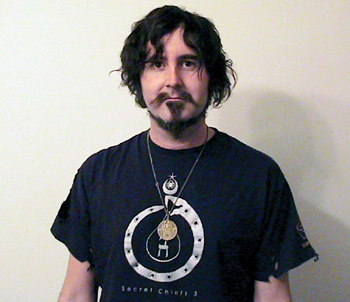 Play Mystic For Me: The former Faith No More guitarist used alchemy to turn one band into seven.

He Cares a Lot

Secret Chiefs III's Trey Spruance leads seven bands and a record label. What did you do today?

By Peter Koht

Trey Spruance, the former guitarist for both Mr. Bungle and Faith No More--he's also the impresario behind the Web of Mimicry label and the point man for the Secret Chiefs III--is a man in love with complexity. His work ethic is also truly inspiring. Rather than coast on the residuals from Faith No More's big hit "Epic," he's split his current band, the Secret Chiefs III, into seven separate projects, each exploring a different aspect of the band's vast oeuvre. The only question it raises is whether or not Spruance ever gets any sleep.

"The idea to split the band into seven parts is to solidify and bring to light elements that we had already explored, like hardcore metal, faux folk and surf music," Spruance says from his San Lorenzo Valley compound. "I associate every aspect of the project with some kind of weird symbology. It makes perfect sense to me, but I understand when people are confused."

Like their label mates and touring partners, the Sleepytime Gorilla Museum, the Secret Chiefs III wrap their performances and recordings in a shroud of mystery. But unlike the Museum's gothic doll facade, the Chiefs prefer to play Arabian Nights by glorifying the majesties of the Persian Empire and its esoteric doctrines.

"I was going through that kind of existential crisis that everyone goes through, and out of reading Nietzsche I got into reading Persian philosophers," Spruance recalls. "Their writings are really inspirational when they deal with the relationship between music and philosophy. It kind of angered me that music has lost that dimension in Western culture."

He goes on to explain that the Greeks were aware of this relationship, but while their philosophies are recorded, the music is lost to the ether. "We've reduced music into this commodity pressed into vinyl or CDs to be bought and sold," he says. "We need a reawakening."

In order to shock the American public back into shape, Spruance has enlisted some heavyweight talent for this tour, including avant-garde violin genius Eyvind Kang. He's also roped in Marc Ribot's rhythm section, Shahzad Ismaily and Ches Smith. If that weren't enough, Estradasphere member Timb Harris is in the band. The only problems this band has are logistical.

With members living in the bay, L.A. and New York, rehearsals are a pain in the ass, but the Chiefs get around this problem by being really, really good. Even though the charts are nearly impossible to play, with microtonal changes and rhythms that would make a mathematician proud, these musicians show no fear before the mass of black notes on the page.

"Most of the records are recorded the old-fashioned way," says Spruance. "We get together and rehearse and then record it in about a day. Then I do overdubs. I do about 75 percent of them, except for the female vocals, which I use a lot." After all, even a workaholic has to take a day off once in a while.
---
The Secret Chiefs III. With Sleepytime Gorilla Museum at 8pm at the Catalyst, 1011 Pacific Ave., Santa Cruz; tickets $10/advance, $15/door; www.catalystclub.com.
---
[ Santa Cruz | Metroactive Central | Archives ]