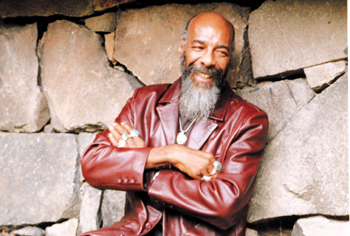 Havens Can Wait: The veteran folk singer figures that, politically, it's about 1959 at the moment.

Like Déjà Vu All Over Again

Almost 40 years after Woodstock, Richie Havens returns to Santa Cruz--still singing songs of freedom

By Peter Koht

'My music comes to me out of the blue," says Richie Havens over the phone from his New York home. "A title will come to my head in a taxicab and I have to write it down quickly. By the time that I get home, just that title has sort of told me what that song is about. I start writing it and it doesn't stop until the end. Some songs take three minutes, other take 15. It's one swoosh."

Anyone who requires evidence of Havens' expository powers need only rent the Woodstock movie. Tasked with opening up the Three Days of Peace and Music, Havens literally ran out of material before being forced to riff on "Motherless Child" in front of several hundred thousand people. His improvisation took on the name "Freedom" and became more than just set filler--it became an anthem for the flower children.

Now 36 years later as America is embroiled in another international quagmire, Havens is still out on the road, singing songs of unconditional brotherhood and love. Though he has cut back on the number of dates he plays in a year, Havens is still excited to step up onstage. For him, "the privilege of getting to play and share music is really like a big vacation. The audiences that are out there are so incredible."

Havens views his concerts as recreational, but he is also aware of the social impact of his anthemic repertoire. Armed with a guitar and an understated trio, Havens' act has changed little over the years. He's still a powerful presence at center stage, and his aura of sagelike wisdom permeates his vast back catalog.

Rather than waxing nostalgic about the '60s and playing the winery circuit for Benz-driving former hippies, Havens is much more about the possibilities of the present. In his view, the best part of the hippie generation was its commitment to social justice. While he is proud of the role that the unwashed ones played in ending the Vietnam War, the movement is "probably a thousand times more powerful than it was in the '60s. The parallel is pure, clear and simple. We are back to the beginning. I would say that we are in 1959, right now. We're on the verge of crossing that line again.

"This whole country protested the start of this war," he continues in his soothing baritone voice. "Other countries around the world did so too. It's a global issue rather than just a home issue."

Havens blames the mass media for ignoring the earnest and powerful voices speaking out against the present conflict. "The media is greatly worse than it used to be," he intones, "In the '60s there were very few people that would jump on the line to speak out about what the elected government was doing, but today they're listening to our telephone calls. It's far far far more dangerous to speak out now."

But Havens doesn't allow the NSA to silence his message. On his latest record, Grace of the Sun, Havens delivers a set of brave and powerful songs that reverberate with a sense of noble dignity in troubled times.

While Havens has long been known for his love of rearranging other artists' work, this record focuses more on original material. But selections by Joni Mitchell and Bob Dylan do work their way into the set list. How does he decide to wrap his fingers around a tune as iconic as "All Along the Watchtower"?

"The song picks me because it has done something for me. The first time that I hear those songs that I choose to cover, they have had a tremendous impact on me. They stick in my mind and they bear being sung over and over again."

Havens' choices also have the added bonus of introducing and entirely new generation to the wonders of the music of the '60s--a fact that pleases him to no end. In fact Havens claims, "I have my best conversations with little guys under 4 feet tall, to tell you the truth. I can tell you for sure that the change that we are all looking for is already here, and it's our children."
---
Richie Havens plays Friday, Jan. 13, at 8pm at the Rio Theatre, 1205 Soquel Ave., Santa Cruz. Tickets $22/adv, $25/door; www.riotheatre.com.
---
[ Santa Cruz | Metroactive Central | Archives ]