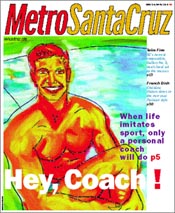 For the Week of
January 14-20, 1999
Cover: Hey Coach!
When life imitates sport, only a personal coach will do.



Take Five: SC's newest cooperative, Gallery No. 5, deals local art to the masses.



Master Mix: The SC Symphony breaks symphonic tradition with last weekend's unusual pairing.
Notes From The Underground: Skinny's hosts a show full of local and NoCal talent, plus Salinas exports a zine.



At War In Eden: Terrence Malick turns James Jones' The Thin Red Line into a reverie on nature defiled.
Anti-Semantic: Mundane decadence, much bellowing in Hurlyburly.



French Dish: Christina Waters dines in the new year Parisian style.