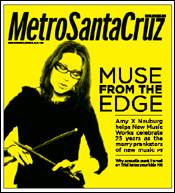 For the Week of
January 28-February 4, 2004
Cover Story: Muse From the Edge:
Amy X Neuberg helps New Music Works celebrate 25 years as the merry pranksters of new music.
Nüz: Rep. U.S. Sam Farr responds to Bush's State of the Union address.



No Effects: The time-travel shock waves aren't up to snuff in 'The Butterfly Effect.'
High on the Hog: 'Cycle World' editor David Edwards on wheelies, testosterone and the biker flick 'Torque.'
Veils of Decorum: 'Girl With a Pearl Earring' brings Vermeer's famous painting to life.
Tumbling Dice: William H. Macy plays a misery goat who goes for the gold in Vegas fairy tale 'The Cooler.'



Please, Hamell, Don't Hurt 'Em: One-man punk band Hamell on Trial took on the world. At last count, he's up five to nothing.
The Rock Show: Serendipity Project's Freestyle Battle; Coheed and Cambria.



Glimmer of Sope: Hope springs eternal at Front and Cathcart, where the San Pablo Taqueria has risen out of the wreckage of '50s food and Pontiac grilles.