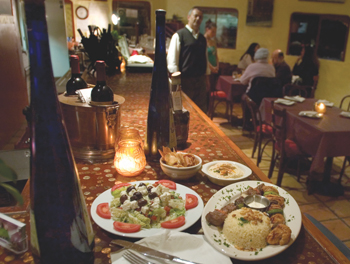 Photograph by Stephen Laufer

Winning Combination: Lamb and chicken kabobs with rice pilaf and pine nuts, plus a greek salad, equals crazy delicious.

Pirates of the Middle East

The new menu and belly dancing at Il Pirata brings international appeal to Capitola

By Selene Latigo

When my brother Zeb rolled into town last Friday, we decided the new Middle Eastern menu and live belly dancing at Il Pirata would be a perfect way to initiate his weekend in Santa Cruz. Located on the south end of the Esplanade in Capitola, the Il Pirata dining room is actually anything but nautical. The small round space feels more like a Mediterranean taverna with curvy stucco walls, a long snakelike bar and tiled floors. Rich shades of burgundy add contrast to the white walls, while loud, lively music provides international appeal, almost making us feel like we were on vacation ourselves.

After looking over the nightly specials on a blackboard by the door, we were seated and immediately served a bowl of silky smooth hummus, simple yet full of tahini flavor and drizzled with olive oil, along with thick and crispy pita chips. We selected a bottle of the 1999 Montepulciano d'Abruzzo, Taverna ($23), from the primarily Italian wine list, a good table wine for our festive and garlicky meal to come.

Although the menu still features many Italian specialties like risotto, pasta, panini and veal piccata, we were eager to try the recent Middle Eastern additions and scurried to order before the belly dancing began. From the several tempting appetizers, we chose the falafel tapas ($5.95), three darkly deep-fried balls of spicy chickpea and fava bean mixture with creamy tahini, tomato and parsley as garnish. We also ordered the eggplant wrap ($5.95), which turned out to be four little rolled-up bundles filled with thick labni cheese, garlic and walnuts, all swimming in a sweet balsamic reduction. The heavy filling and sauce obliterated any trace of eggplant flavor and I found myself yearning for a fresh vegetable contrast such as tomato or cucumber to create some balance in this rich dish.

On recommendation by our server, we also ordered the tabouli ($6.95), which ended up being a favorite of the evening. Large leaves of romaine were heaped with the bright and tangy bulgur salad with strong mint, lemon and parsley flavor. We quickly realized that we couldn't really dig in without the assistance of some pita bread. After asking our server twice, we were rewarded and hungrily scooped up the platefuls of food with our hands, the only way to eat in Dave's opinion.

Next came the two entrees we decided to share. The only classically Italian item on our table, the Ravioli al Tartufo ($14.50), was a big portion of house-made ravioli filled with minced mushrooms in a delicate truffle cream sauce. The earthy essence of mushroom was highlighted expertly in this pasta dish. We also ordered the lamb kebab ($13.95), which came with moist rice pilaf and a huge fattoush salad featuring the subtly piney spice, sumac. When ordering the kebab, Dave specified that he likes his lamb pink. Our server replied, "That's how we do it here," but alas, that wasn't the case. The skewered meat was definitely well done, but fortunately not tough at all, with good grilled flavor.

By now, the room was booming with Middle Eastern music and the tinkling sounds of hip-shaking bells. My brother is currently dating a belly dancer and has had time to fine-tune the Gypsy dance steps and jumps from our folk dancing childhoods. Mere minutes into the performance, Zeb was circling the room with our turquoise-clad dancer. We felt like extending this festive dinner as much as possible, so we heartily accepted the dessert menu. We were very pleased with the house-made version of baklava suggested to us. Not at all cloying or standard like some, the pastry was light, with layers of pistachio and cashew butter and just a touch of sticky honey on the bottom.

With live belly dancing every Friday and Saturday nights, we have an even better excuse to bring more people to Il Pirata, even if they live right down the street, for a night of great food and entertainment. Maybe by the next time my brother will have given us some pointers.
---
Il Pirata
Address 201 Esplanade, Capitola Village
Phone 831.462.1800
Hours 5-9pm Wed-Mon
price $5-$20
---
[ Santa Cruz | Metroactive Central | Archives ]