Vote Here!
Cast your ballot in the 2004 Goldies Readers Poll.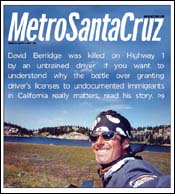 For the Week of
February 4-11, 2004
Cover Story: Unlicensed to Drive:
David Berridge was killed on Highway 1 by an untrained driver. If you want to understand why the battle over granting driver's licenses to undocumented immigrants in Californis really matters, read his story.
Nüz: Sean Van Sommeran's Pelagic Shark Research Foundation isn't feeling too chummy toward UCSC right now.



Party of One: Neve Campbell steps forward as a ballet dancer in Robert Altman's 'The Company.'



Monster Clubbing: The Groovie Ghoulies rock & roll in the belly of the beasts.
The Rock Show: Zelda's Songwriters' Showcase; Serendipity Project freestyle battles; Hamell on Trial.



Hallmark Pass: Take time to crib your valentines from the best while you're hanging out in local bookstores.



Special Thing: Ideal Bar and Grill has been luring locals into tourist territory for years with its siren song of popular specials.