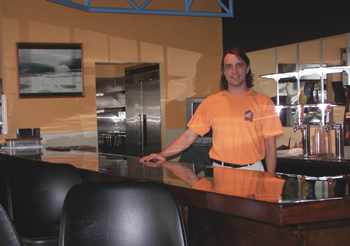 E3 Playhouse owner Wes Anthony.

Wes' World

Newly opened music venue E3 Playhouse overcomes the hurdles of city planning

By Paul Davis

It hasn't always been this way. Not long ago, musicians and concertgoers alike bemoaned the lack of live music venues downtown. In the past year, the town has gone through a renaissance of live entertainment. Cruising down the Pacific strip on any given night, you can opt for a punk show at the Blue Lagoon, a touring folk act at the Attic or a national performer at the Catalyst.

Add to this slowly growing list the E3 Playhouse on Front Street, which opened last week to host swing, salsa and Americana performers. As owner Wes Anthony found out over the eight-month period it took to approve the necessary permits, it's a long road from having the idea to opening the doors for business.

"It took five months for the Planning Commission to decide if we could have a restaurant, bar and music place," Anthony explains. "I have to fight for the obvious--dancing, a bike rack. We built this place in three months, and waited five months." The Mississippi-born Anthony, who started playing saxophone in the fifth grade, relocated to Santa Cruz with his band Naked Earth, which broke up 12 years ago. Anthony subsequently vowed to create his very own niche in the Santa Cruz music scene, without the difficulties and ambiguities of performing in a touring band.

In exchange, Anthony has had to take on a whole new set of difficulties and ambiguities. Not only was the approval process difficult, but Anthony was shocked by the fees he had to pay as well. "Public Works hit me with a traffic impact fee of $25,000 for tennis shoes and cars messing up the road," he says, noting that he doesn't feel responsible for much of the traffic as he is located on an already well-traveled intersection.

Mike Ferry of the city Planning Commission insists that there was nothing unusual about the length of the permit process from the city's perspective. "We tell everybody who applies that there's a three-month application process." Ferry also says the delay was a result of a discrepancy in the project plans, and that despite this discrepancy, the approval process still took about three months.

"[Anthony] specified that he was opening a restaurant, but when we saw the plans, it didn't meet our guidelines for a low-risk alcohol permit," says Ferry, noting that the original plans did not account for a dance floor, which requires a "high-risk" alcohol permit. After approval was granted by the commission, he explains, a number of other agencies had to approve the project, including the Alcoholic Beverage Commission and the Public Works Agency. He adds that despite the $25,000 Public Works fee, "the people in the office actually did [Anthony] a favor and let him pay the fees over a period of time." Ferry explains it is not unusual for it to take up to eight months to get approval from these multiple agencies. "If a public facility is opening, we want it to be safe, and make sure it meets all of our standards."

While the E3 Playhouse is now open, not all the issues with the city have been worked out. Currently it must stop selling alcohol between Sunday and Thursday at 8:30pm, due to lingering discrepancies between the usage permit of a restaurant as opposed to a dance venue. "Business is hard enough without the city fighting against you," Anthony says.

"They call all these old-timers dancing to swing a nuisance. ... I'm trying to take a higher ground and build a community arts center."

Still, Anthony is pushing ahead to realize his vision of a local restaurant/music/dance venue that educates as much as it entertains. In addition to a weekly roster of local and national acts, Anthony is offering evening classes for Saxophone, Latin Jazz and Big Band Jazz, and also daytime Yoga and Conversational Spanish classes.

"We have people from 10 years old to 90 years old showing up. Music is in our blood and bones," Anthony says, who views himself as half teacher and half student. He intends to add more classes to the roster, and encourages people to suggest their own classes.

Despite his difficulties navigating the planning process, Anthony is unfazed. "This is basically an extension of what I've been doing since the fifth grade. I'm trying to create a place for good food and good music. I want to provide a place for inspiration and creativity."
---
The E3 Playhouse is at 435 Front St., Santa Cruz. (831.466.9033; www.e3playhouse.com)
---
[ Santa Cruz | Metroactive Central | Archives ]