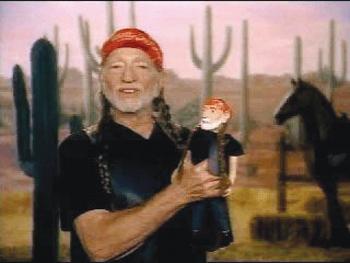 Willie Would: So when's H.R. Block actually gonna market these things, 'cos Müz wants one now.

Müz

Hell's Angel

By Bill Forman

Good Harlot: Müz is always eager to meet new and interesting people, so when word arrived about an event called Harlots and Whorehouses, it seemed like the perfect way to spend a lazy Saturday. As it turns out, author and historical researcher Phil Reader's upcoming get-together at the Museum of Art and History is confined to this county's manifestations of the world's oldest profession in the 19th century only--which, as we understand it, is the last time anyone in Santa Cruz actually engaged in politically incorrect sex.

Devil Makes Two: Those who missed Mule Train's bittersweet farewell show at the Blue Lagoon last Wednesday have another chance to get all mopey and rowdy as lone mule Paul Davis shares a Poet & Patriot bill with The Devil Makes Three's Pete Bernhard this coming Saturday. The acoustic show will likely be Davis' last Santa Cruz performance for a while, as he's heading out to Chicago where he's heard that this crazy new form of music called electric blues is starting to catch on.

Despite the ancient curse that brings us all back home to Santa Cruz, Davis imagines that he's really leaving town. So let's all humor him at what's sure to be a brilliant "farewell" show. And we're not promoting him just because he writes for us, so stop saying that!

Making Music With My Friends: One of the great things about a Willie Nelson show is that it's so easy to navigate your way through the even the densest crowd: Just fall in behind a couple of friendly Hell's Angels and the crowd will part for you like a veritable Red-Headed Sea.

It was a trick well worth knowing at the Catalyst last week, a venue so packed with boisterous fans that, on quieter numbers like "Help Me Make It Through the Night," folks toward the back of the room had little more than visual evidence to prove that the band was actually playing.

But up front, it was a kind of heaven. It's easy to forget just how great a guitarist Nelson is. From a weathered acoustic he'd managed to wear holes in, the grizzled coaxed out stunningly original solos with seemingly no effort.

And then there's his ability to make other people's songs very much his own. Whether it was Townes Van Zandt's "Pancho and Lefty" or Jimmy Cliff's "The Harder They Come," Willie made you forget that someone else even played the song, let alone wrote it. A song like "You Don't Know Me," which he introduced as the title track of his new album, would have been pure schmaltz in the hands of someone like, say, Diana Krall, but Willie made it sound like a dream.

Meanwhile, you could swear those were many of the same folks Willie had onstage with him when he passed through town decades ago, when the band couldn't leave the stage without reprising "Whiskey River" at least twice.

And while these days Willie may have been off the stage at precisely the two-hour mark, there was no doubting what a generous two hours it was. Grizzled though he may be, the outlaw Willie remains America's king of all music; long may he reign.
---
Harlots and Whorehouses, Saturday, Feb. 11, 10am, Museum of Art and History, 705 Front St., Santa Cruz; 831.429.1964. Paul Davis and Pete Bernhard, Saturday, Feb. 11, 9pm, Poet & Patriot, 320 Cedar St., Santa Cruz; 831.426.8620.
---
[ Santa Cruz | Metroactive Central | Archives ]