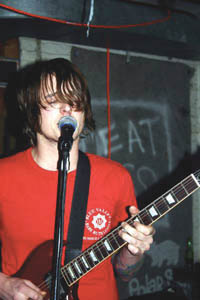 Living Here in Allentown: 'You hear this guy, and he is America.'

Revenge of the Power Trio

Pennsylvania's Pearls & Brass bring the noise and something more

By Bill Forman

The time has come to sing praise to the extended riff: Think math rock without the distended craniums. Think "Iron Man"-era Sabbath without the Secanols. Or don't think at all, and just let Pearls & Brass inspire you to bang your head slowly, the way God intended.

Breathlessly praised by critics from Pitchfork to The New York Times for resurrecting (or, more accurately, reconstructing) the classic power trio, Nazareth, Pennsylvania's finest have been playing together, on and off, since age 12 or 13, or roughly half their lives.

But, according to guitarist Randy Huth, it wasn't long ago that the group had essentially called it quits, until their career was unexpectedly jump-started by a simple twist of fate. Back in 2003, while touring to promote their self-produced first album, Pearls & Brass found themselves stranded in Louisville without a gig. "It was a tour we booked ourselves and we were out for a couple weeks," Huth recalls. "Basically, the show got canceled and we got stuck there, so we went to the first place we saw that had music and tried to hustle a show. It was like, 'We'll play for free, we're stuck in the city anyway.' And Dave Pajo from Slint happened to be playing at that venue. We didn't get to play the show, but he ended up getting the CD and liking it."

None of which Huth and his band mates knew about until the following year, when Slint invited them to perform as part of London's trendy All Tomorrow's Parties Festival. "We hadn't even been playing together for, like, eight months, but when we got invited there, we decided to start playing again. It was totally a chance occurrence. But it really ended up working out for us in the long run quite well."

At the ATP Festival, P+B took part in a 5am hotel room jam with Icelandic band Mum and earned the admiration of Jesus Lizard main man David Yow. "You hear those guys," Yow reportedly enthused, "and they are America." By all accounts, this was meant as a compliment and, combined with Pajo's continued cheerleading, helped bring the group to the attention of Drag City, who released P+B's thunderous second album, The Indian Towers, two weeks ago. "Everything went so fast with this record," says Huth, who, along with bassist Joel Winter and drummer Josh Martin, holed up in San Francisco's Louder Studios with lots of beer and Fucking Champs' Tim Green at the production helm. "The first record was a little more straightforward, not quite as heavy and with less ongoing looping riffs and stuff like that. With this record, we were looking for thick and heavy, and we wanted it to sound natural and organic and pretty consistent to what we sound like live." As a producer, Green turned out to be of like mind. "And the record does all that," says Huth. "It's pretty perfect."

Thick and heavy it is, as The Indian Towers further delineates P+B's fascination with British blues-rock bands like Cream and the Groundhogs as well as the American originals who inspired them. "I was still playing in fast hardcore bands until I was, like, 19, and that's when we started discovering old blues stuff and then started going through old rock records at the same time," recalls Huth. "I really dig pretty much anything Skip James did. We all like Fred McDowell and John Hurt. I'm into just like the old one-dude-with-a-guitar-playing-to-himself basically. And yeah, Skip James stuff is definitely the darkest."

Huth gets to perform in that mode himself on two of Indian Towers' cuts, where he sings and accompanies himself on a guitar that his grandfather had built 40 years earlier while working in the local Martin guitar factory. As it turns out, Huth acquits himself surprisingly well for a Northern white boy, sounding not unlike Tony "T.S." McPhee of the Groundhogs, who backed John Lee Hooker when he toured England.

All of which may stem from the fact that Huth spent a lot of time wood-shedding with his guitar during long Pennsylvania days and nights. "Nazareth is basically a small working-class town with some bars and trees, and that's all," he says. "There's not a helluva lot else to do there when you're a kid, other than make music and play in bands."

Or you can always make the 20-mile trek to Allentown, home to P+B'S practice space as well as a community of people who, Huth swears, don't hate the Billy Joel song. "That whole song's really about Bethlehem, anyway, that's where Bethlehem Steel and all the steelworkers were," says Huth. "But I guess Allentown sounded better."
---
Pearls & Brass, Sunday, Feb. 12, at the Attic, 931 Pacific Ave., Santa Cruz. $7; doors open 7pm. 831.460.1800.
---
[ Santa Cruz | Metroactive Central | Archives ]